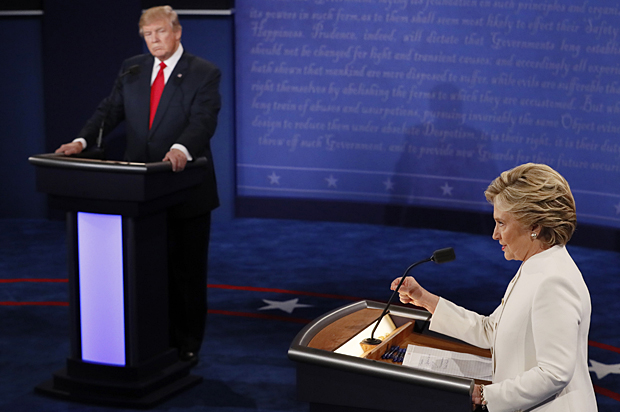 Yesterday, October 19th the third and final Presidential debate took place in Las Vegas, Nevada. This was the last opportunity Presidential candidates, Donald J. Trump, and Hillary R. Clinton, had to present their positions on various different issues, and make a final attempt to gain the support of undecided voters. The debate has left much to talk about, while many questions still remain unanswered. The moderator of the debate, Chris Wallace, of FOX news questioned the candidates on various different topics ranging from the Supreme Court nomination, economy, foreign policy, and more importantly the candidates' positions on immigration reform.
On the subject of immigration, the moderator introduced his question on immigration by providing an overview of each candidate's positions on immigration. Wallace discussed the fact that throughout his campaign, Donald Trump has staunchly advocated for mass deportations and the building of a more secure border, which he believes will successfully deter undocumented immigrants, criminals, and terrorists from entering the United States.
By contrast, Wallace highlighted the fact that Hillary Clinton has offered no specific plan on how she would secure our southern borders, where there is currently a massive influx of immigrants, specifically unaccompanied children from Central America, seeking refuge in the United States. Wallace reiterated Hillary Clinton's commitment to offer a comprehensive immigration reform package within the first 100 days she is in office that includes a pathway to citizenship for undocumented immigrants, with proven ties to the United States.
Each candidate was asked to discuss why their immigration policy is the best, and why their opponent is wrong. Donald Trump was given the first opportunity to respond. Trump opened the conversation on immigration by taking the position that providing amnesty for undocumented immigrants would be a 'disaster' for various different reasons. First, he stated that it would be unfair for undocumented immigrants to be given a path to citizenship, while immigrants wishing to enter the United States legally, are forced to wait many years to obtain permanent residence. Second, he emphasized that securing our country's borders is his number one priority. Trump bolstered his claim that strong borders are necessary, by referring to mothers he had met on the campaign trail, whose children were brutally killed by people he claims entered the country illegally. He also stated that for the first time ever he has been endorsed by 16,500 Border Patrol Agents, as well as ICE who share in his belief that our country needs strong borders. Third, Trump claims that strong borders are necessary to deter the thousands of people who are coming into the country illegally, and to prevent drugs from pouring into the United States. Lastly, he stated that the war on drugs is the biggest problem the United States is facing today, thus in his view this presents an even greater obligation to secure our borders. He blamed the Obama administration for its failure to deter illegal immigration, illicit drugs from coming into the United States, and for allowing criminals to enter the United States.
He stated that under his administration, he would not support any initiatives for amnesty, and instead focus on the bigger issue of border security. As President of the United States, he vowed that his first act would be to remove the most dangerous drug lords from our country. Later in the debate, he backtracked on his position that he would not offer any amnesty, and instead said that he would consider making a determination on immigration policy only once the border has been secured. Trump stated that under his administration he would speed up the immigration process for persons who have waited in line for permanent residency for many years, but he will not offer a path to citizenship to undocumented persons. He stated that his priority is removal of undocumented immigrants. If undocumented immigrants would like to enter the United States, they must do so by legal means. Trump went on to criticize Hillary Clinton by alleging that during her time as a politician, she did not accomplish amnesty for illegal immigrants, and failed to take substantive steps to secure the border. He also made claims that Hillary Clinton herself had supported his policy of building a more secure wall along the U.S./Mexico border before running for President.  In closing, Trump reminded Americans that we are a country of laws, which cannot provide amnesty to illegal immigrants. Trump took a shot at Barack Obama highlighting that under his administration, millions of undocumented immigrants have been removed. He further stated his refusal to allow refugees from Syria into the country, and his commitment to stop radical Islamic terrorism.
The attention then turned to Hillary Clinton who made clear that she is not interested in removing the 11 million undocumented immigrants residing in the United States, especially not those who have strong ties to our country, such as U.S. Citizen children. She opened the dialogue by stating that there are 11 million undocumented immigrants living in the United States with 4 million U.S. Citizen children. Hillary made the commitment of introducing a comprehensive immigration reform package within the first 100 days she is in office, that will allow undocumented immigrants a pathway to citizenship. She condemned Donald Trump's immigration policy, stating that mass deportations were not only inhumane, but that such actions are not in line with who we are as a nation. She stated that the massive deportations would require a massive law enforcement presence that would undermine American values. She argued that massive deportations would tear our country apart. While Hillary Clinton stated that she does not want to tear families apart, and does not want to see a deportation force to the extent that Donald Trump has envisioned, she does think it is important to secure our country's borders. Hillary stated that she has always been for securing our nation's borders, but wants to allocate resources where they are most needed. She made clear that she is in favor of deportations of dangerous persons such as criminals. She supported her decision to introduce immigration reform to prevent exploitation of undocumented workers, to bring undocumented immigrants out of the shadows, and into the United States economy. Hillary criticized Donald Trump alleging that he exploited undocumented workers who have worked for his companies, and used undocumented labor to build the Trump tower. All in all her immigration plan will focus on securing the United States border, while introducing amnesty to undocumented immigrants who have continuously resided in the United States, and have strong ties in this country.
Overall the positions of our candidates were very familiar. They did not deviate from their platforms on immigration policy. The candidates responses were disappointing in some respects because the majority of their responses centered on undocumented immigration. It is not surprising that this occurred, given that the subject of immigration has been highly politicized in this race, however it would have been nice to have seen the candidates discuss immigration reform for special classes of immigrants, as well as entrepreneurs and highly skilled workers.
To view the debate in its entirety please click on the video below.
The United States Presidential election is just two weeks away; will you be making your voice heard on November 8th? Remember that voting is one of the great privileges that comes with being a U.S. Citizen. It is a duty that should be taken very seriously.
For legal advice please contact our office.