The Law Office of Jacob J. Sapochnick is delighted to introduce associate attorney, Ms. Ekaterina Powell,  for our second staff spotlight.
Ms. Powell has worked for our firm since June 2010 and is one of six attorneys working in our law office. Ms. Powell specializes in various family-based, investment-based, and employment-based immigration matters. Ms. Powell's specific focus of work is on nonimmigrant and immigrant work and investment visas, extraordinary ability petitions, national interest waivers, EB-5 investment petitions, waivers of inadmissibility, VAWA cases, H-1B/LCA compliance matters, government worksite audits and investigations, as well as complex requests for evidence, motions and appeals.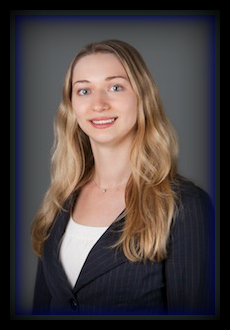 Bio: After receiving her law degree in Russia in 2007, Ms. Powell decided to make California her permanent home. Within only three years of immigrating to the U.S., Ms. Powell graduated from an American law school and became a California licensed attorney.
Passion for law and her experience of being an immigrant inspired Ms. Powell to choose immigration law as a career path.
Ms. Powell has published numerous articles on immigration-related matters, which you can find on our blog. Ms. Powell also writes for VOICE: An Immigration Dialogue, the publication of American Immigration Lawyers Association. She has given presentations at workshops and seminars devoted to various topics of immigration law. In addition to her busy work at the firm, Ms. Powell volunteers for non-profit organizations helping immigrants from all over the world obtain legal assistance.
For Ms. Powell there is nothing more rewarding for her than to see her hard work and dedication help the clients solve their immigration issues and help them reach their American dreams.
Outside of the office, Ms. Powell can be found spending time with her family outdoors, gardening, or hiking/camping.