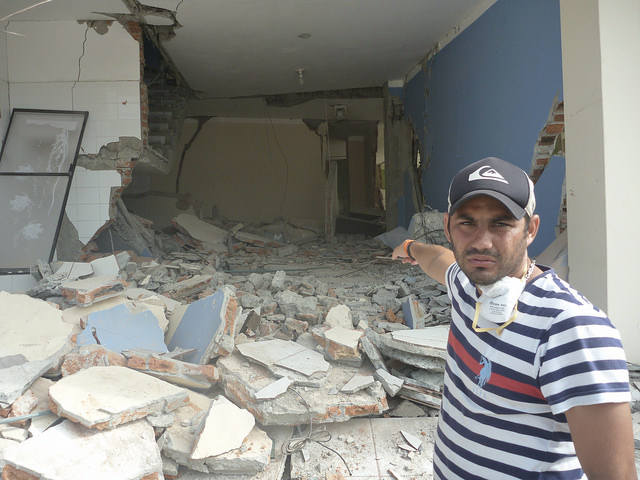 The Department of Homeland Security is currently under pressure to provide Temporary Protected Status (TPS) to Ecuadorians, following a 7.8 magnitude earthquake that rocked the Northern coast of Ecuador on April 16, causing nearly 600 fatalities. Dozens of people remain missing under the rubble, while thousands of Ecuadorians have sustained injuries. The Obama administration is expected to respond to a request from American lawmakers, which would allow Ecuadorians physically present in the United States, to apply for an extension of stay to remain in the country temporarily. Furthermore, New York City Mayor Bill de Blasio and other politicians have called on the Obama administration to intervene, by designating Ecuador as a country temporarily eligible to receive Temporary Protected Status (TPS). In a statement issued last week, De Blasio noted that "New York City alone is home to nearly 140,000 Ecuadorian immigrants. Many of these New Yorkers face additional uncertainty about whether it is safe for them to return to Ecuador at this time. We must extend whatever support we can at this critical moment." Approximately 143,000 Ecuadorians currently reside in the United States illegally in the states of New York, New Jersey, Illinois, California and Florida.
The administration is also being pressured by lawmakers to extend temporary protected status to migrants from Central America, due to the criminal and security concerns in the region including gang violence. The administration has not yielded to this pressure as of yet.
Enacted by the United States Immigration Act of 1990, TPS allows the government to extend the stay of foreign nationals whose countries have been affected by war, civil unrest, violence, natural disasters, or other emergent needs that concern the safety of foreign nationals from troubled regions. The provisions of the Immigration and Nationality Act (INA) allow this temporary status to exist, as well as other blanket forms of relief from removal of individuals from these affected regions. Under the INA, the executive branch and legislative branch are authorized to grant TPS as relief from removal for individuals from designated countries. The Secretary of Homeland Security and Secretary of State, are given the authority to issue TPS for a period of 6 to 18 months that can be extended if conditions remain the same in the designated countries. TPS recipients receive a registration document and temporary employment authorization for the duration that the foreign national is granted Temporary Protected Status. Temporary Protected Status is NOT a visa or a path to permanent residence. Foreign nationals who have been found inadmissible to the United States or in other words have been subject to a "bar" are not eligible to receive Temporary Protected States.
Presently, the United States provides TPS to more than 300,000 foreign nationals from 13 countries including: El Salvador, Guinea, Haiti, Honduras, Liberia, Nepal, Nicaragua, Sierra Leone, Somalia, Sudan, South Sudan, Syria, and Yemen.
To be eligible for TPS, you must:
Be a national of a country designated for TPS, or a person without nationality who last habitually resided in the designated country;
File during the open initial registration or re-registration period, or meet the requirements for late initial filing during any extension of your country's TPS designation;
Have been continuously physically present (CPP) in the United States since the effective date of the most recent designation date of your country; and
Have been continuously residing (CR) in the United States since the date specified for your country. The law allows an exception to the continuous physical presence and continuous residence requirements for brief, casual and innocent departures from the United States. When you apply or re-register for TPS, you must inform USCIS of all absences from the United States since the CPP and CR dates. USCIS will determine whether the exception applies in your case.
You are not eligible for TPS if any of the following applies:
You have been convicted of any felony or two or more misdemeanors committed in the United States;
Are found inadmissible as an immigrant under applicable grounds in INA section 212(a), including non-waivable criminal and security-related grounds;
Are subject to any of the mandatory bars to asylum. These include, but are not limited to, participating in the persecution of another individual or engaging in or inciting terrorist activity;
Fail to meet the continuous physical presence and continuous residence in the United States requirements;
Fail to meet initial or late initial TPS registration requirements; or
If granted TPS, you fail to re-register for TPS, as required, without good cause.
We will provide more updates on our blog as they become available. For more information about TPS please click here. For a consultation please contact us.