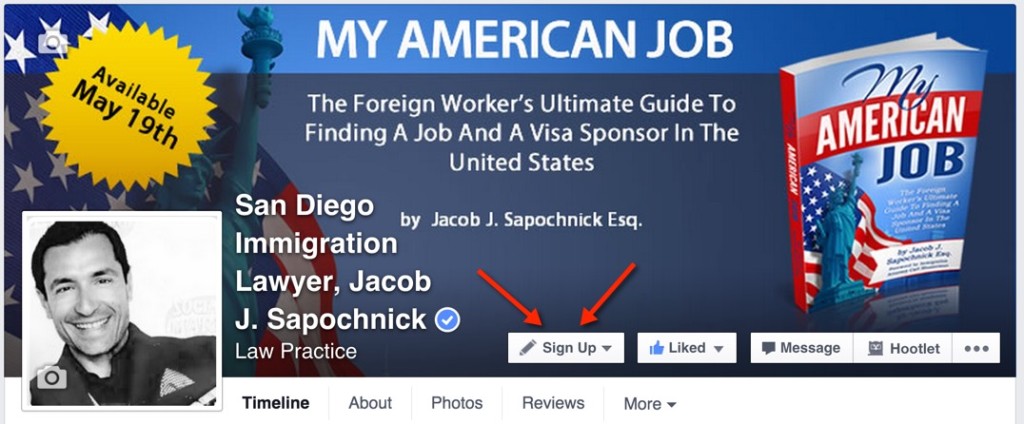 After more than 10 years of practicing immigration law the Law Offices of Jacob J. Sapochnick is excited to announce the release of attorney Jacob Sapochnick's new e-book called 'My American Job' now available on Amazon for purchase. An immigrant himself, attorney Jacob Sapochnick first came to the United States on a student visa while studying for his masters in International Law in San Diego, California. Attorney Jacob Sapochnick's e-book, 'My American Job' aims to assist foreign born workers navigate the complicated process of immigrating to the United States and having a shot at the American Dream. Attorney Jacob Sapochnick provides guidance having firsthand knowledge of the process himself. In his book, he explains the indispensable resources foreign born persons have at their disposal, namely showing foreigners how to use the power of the internet and social media to gain access to American employers and instructing foreign born persons on how to obtain working visas and permanent residence through the employment based sections of our country's immigration laws. 'My American Job' was created with you in mind. In his book, attorney Jacob J. Sapochnick, Esq. teaches foreigners how they can stand out, how they can access the open American market, and how to successfully apply for an employment based visa.
My American Job is a guide advising and preparing foreigners  physically, mentally and financially, to maximize their chances for long term job success, overcome misconceptions and objections U.S. employers have about hiring foreign workers, navigate the job application and interview processes, land the job they want including how to leverage social media sites, using LinkedIn, Facebook, Twitter, and Google Plus for job searching, how to adapt to U.S. business customs, ideas, etiquette, protocol, and more.
For more information on purchasing the e-book feel free to click the image above. For legal advice please contact our office.