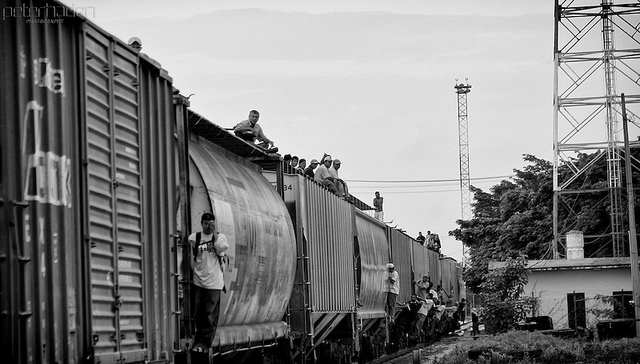 According to new reports released by the U.S. Border Patrol, the surge in Central Americans crossing into the United States is dropping at an alarming rate—approximately 60% fewer unaccompanied minors were apprehended during the month of August, in comparison to the summer months, a time when the migration crisis was in full effect in Central America. These unaccompanied minors make the perilous trek north from their Central American countries due to the violence they have encountered right at home.
The report suggests that the primary reason for the sudden drop is owed to the Mexican government's crackdown on Central American immigrants. According to the report, increasing pressure on Mexico to instill effective deterrents has resulted in increased arrests and deportations of thousands of Central Americans, making it harder for such migrants to reach the American border.
Bowing to American pressure, the Mexican government recently announced a plan to militarize the southern border by placing federal forces along it. As part of these plans, the government will be setting up interior checkpoints, whereby authorities can inspect buses and vans carrying passengers into northern Mexico. Setting up checkpoint will also allow the authorities to ID passengers and question them. Additionally, Mexican authorities have forbidden migrants to board the infamous lumbering freight train known as 'La Bestia,' or the Beast in English. Many Central Americans and children have died while attempting to board such freight trains bound for the United States border. What does this mean for Central American immigrants journeying north? A longer and more dangerous journey ahead of them. According to the Mexican interior ministry, since the crackdown, approximately 30,000 Central Americans have been apprehended and sent back home; 20,000 of which were minors. Central Americans who have sought shelter from authorities in Mexico say that they are afraid of being turned in by Mexican authorities, according to news reports by NPR. Pro-immigrant activists argue that the work being done by Mexican authorities should be done by United States authorities which are better staffed and have better resources. Moreover, they argue, that despite the crackdown, nothing has changed in Central America. Central American countries remain impoverished, and innocent children are left to suffer the consequences of living in a country where impunity and violence run rampant. These critics argue that much more must be done and the issue is much more complex than the American and Mexican government are admitting. Critics insist that the issue is bilateral and humanitarian in nature. Congressional oversight will be necessary to tackle the issue.
To read the full report published by the U.S. Department of Homeland Security please click here. For further information on unaccompanied children click here.