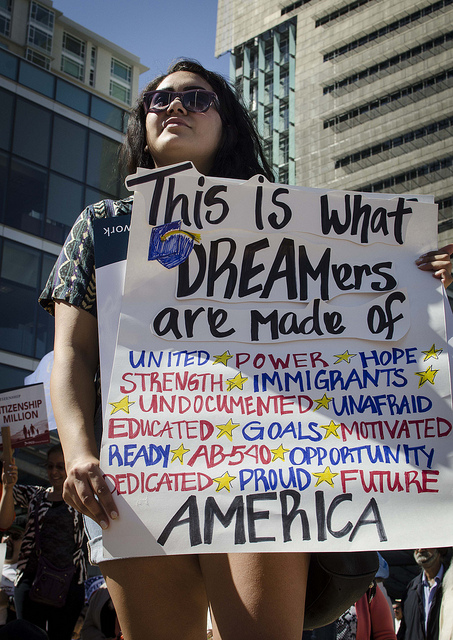 As early as Friday, September 1, 2017, President Donald Trump is expected to make a formal announcement regarding his decision to terminate the Deferred Action for Childhood Arrivals (DACA) program that started on November 20, 2014 under President Barack Obama. The DACA program was introduced as part of a series of executive actions, signed into law by President Obama, to shield hundreds of thousands of undocumented immigrants from deportation.
Young undocumented immigrants eligible for DACA were those who:
(1) were under the age of 31 as of June 15, 2012;
(2) came to the United States before reaching the age of 16;
(3) maintained continuous residence in the country since June 15, 2007;
(4) were physically present in the country on June 15, 2012 and at the time of making a request for consideration of deferred status;
(5) were currently in school, graduated or obtained a certificate of completion from high school, obtained a GED certificate, or were an honorably discharged veteran of the Coast Guard or Armed Forces; and
(6) had not been convicted of a felony, significant misdemeanor or three or more other misdemeanors, and did not pose a threat to national security or public safety.
Individuals who qualified for DACA were given a renewable 2-year temporary employment authorization card (EAD) and "deferred status" to shield them from deportation. It is estimated that more than 750,000 undocumented immigrants have received relief from deportation through this program.
A senior administration official has reported to Fox News as of today, August 31, 2017, that the President is expected to announce the end of the program, despite challenges from the GOP to keep the program intact. The official stated that although Trump will announce the end of the program, he will allow current DACA holders to remain in the program, and have lawful status in the United States until their employment authorization cards run their course. This means that the DACA program will not end abruptly, rather the program will be phased out, and immigrants will no longer have the option of renewing their benefits once they have expired. In recent years the number of DACA applicants has dwindled. According to USCIS statistics, in fiscal year 2016, 40,378 initial DACA applications were approved, while 83,788 renewal applications were approved that same year. This is in stark contrast to the 472,131 applications approved in 2013.
In February 2017, the President made headlines when he spoke sympathetically about the DACA program, detracting significantly from the hardline stance he took against the program during his presidential campaign. The President responding to a reporter's question said, "We are going to show great heart. DACA is a very very difficult subject for me. To me it is one of the most difficult subjects I have, because you have these incredible kids—in many cases—not in all cases, some of the cases they're having DACA and they're gang members and they're drug dealers too. But you have some absolutely incredible kids—I would say mostly. They were brought here in such a way. It is a very tough subject. We are going to deal with DACA with heart. I have to deal with a lot of politicians don't forget, and I have to convince them that what I am saying is right. The DACA situation is a very very difficult thing for me because I have kids . . ."
In July 2017, the President said that he, and not Congress, would be making the final decision regarding the DACA program, "It's a decision that I make, and it's a decision that's very very hard to make. . . I understand the situation very well. What I'd like to do is a comprehensive immigration plan. But our country and political forces are not ready yet."
The news that the President is planning to phase out the program is surprising, given the President's softer stance and assurances in past interviews that DACA holders need not fear deportation.
What White House Correspondents are tweeting about DACA: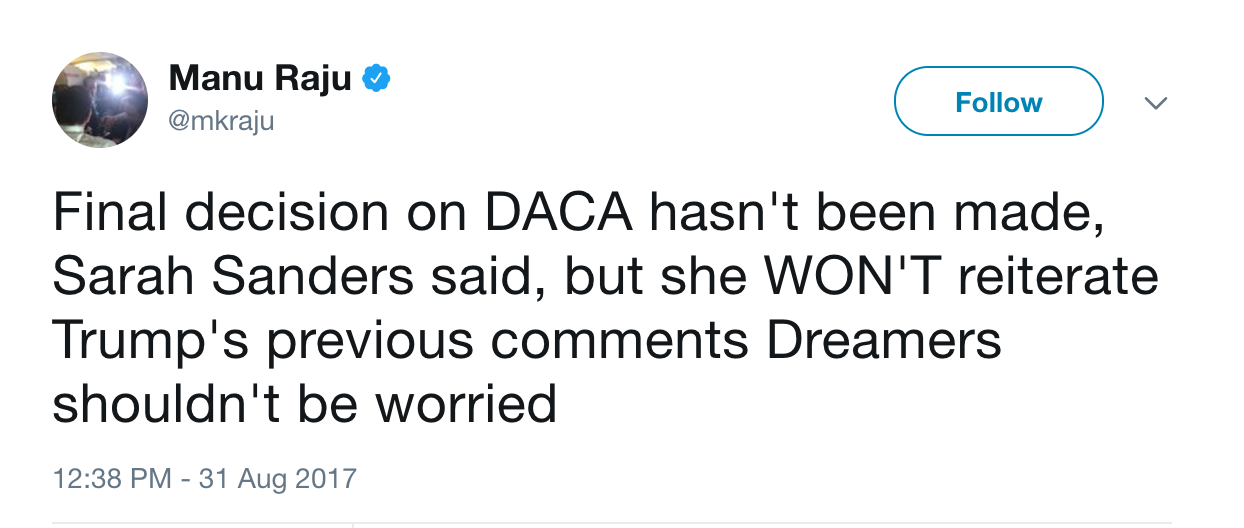 More on the President's decision in the coming days.