During a recent campaign rally to gain support for his re-election bid, the President promised to deport "millions of illegal aliens" from the United States.
A Trump administration official recently confirmed that ICE will be conducting raids to remove undocumented immigrants who have been issued final deportation orders and continue to remain in the United States, as early as Sunday.
The media is reporting that these immigration raids will take place in several major U.S. cities including Miami, Atlanta, Chicago, Baltimore, Denver, Houston, Los Angeles, New Orleans, New York City, and San Francisco.
The operation will target the following individuals:
Undocumented Minors who came to the U.S. without their parents and have since turned 18;
Undocumented immigrants who were ordered removed in absentia; and
Undocumented immigrants who missed an immigration court hearing and did not respond to letters mailed to their homes by the Department of Justice
The Los Angeles Police Department released a statement Friday informing the public that the LAPD is aware of upcoming ICE actions "beginning this Sunday," that would be directed toward individuals who have been issued final deportation orders. LAPD Chief Michel Moore told reporters Friday that ICE has 140 targets in the Los Angeles area.
The LAPD's statement provides, "The Department is not participating or assisting in any of these enforcement actions. The Department has reached out to various community stakeholders regarding the reported ICE enforcement actions, reiterating that members of this Department will not be participating. We are committed to protecting the public through meaningful relationship building and community partnerships."
What Should You Do During an Immigration Raid?
It's important to realize that when immigration raids take place, ICE agents often break the law, and may violate your due process rights, especially when you don't have a firm understanding of the law and believe that you have no rights as an undocumented person.
Be prepared and informed of your rights BEFORE an immigration raid takes place or before going through an immigration checkpoint.
Schedule a consultation with our office to discuss your rights and come up with a plan on what you should and should not do during an immigration raid.
Know your rights, remain calm, and remember that you have the right to remain silent until a lawyer is present.
Make a plan with your loved ones today so you are better prepared when ICE agents come to your door. Never lie to an immigration officer, instead remain silent. NEVER sign any document without a lawyer being present. If immigration tries to intimidate or force you to sign a document, REFUSE.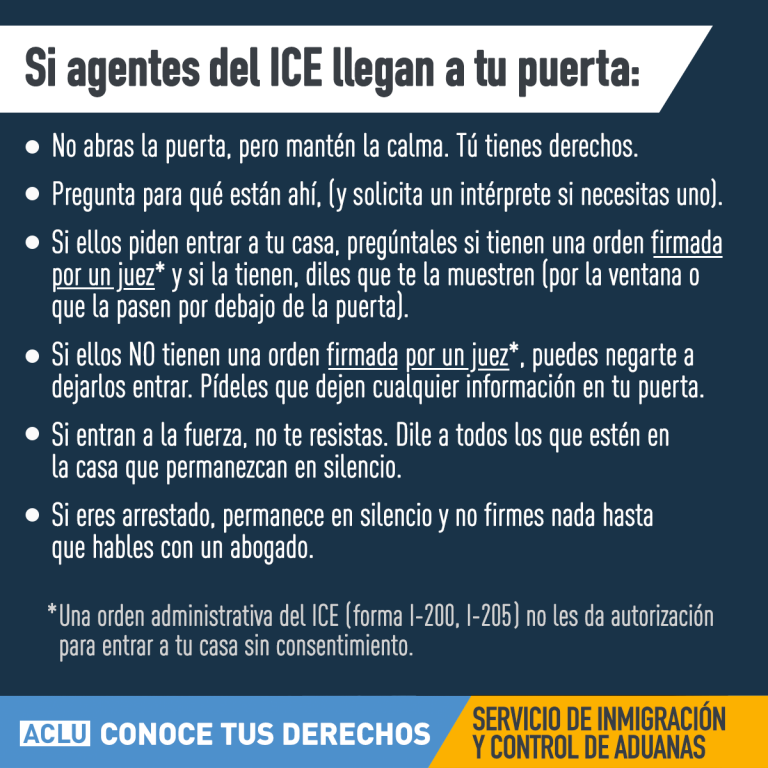 Be Proactive NOW
Be prepared and plan ahead.
Contact or visit our office to be well-informed of your rights.
Be aware of documents that you should carry with you at all times such as a state identification or driver's license.
Do not carry false documents.
Do not LIE to an immigration officer about your immigration status. You have the right to remain silent!
Carry a card that states that you wish to exercise your right to remain silent for use in case you are interrogated by immigration/police officers.
Always carry the name and the phone number of the immigration lawyer you wish to call if the immigration/police detains you.
Inform your neighbors, roommates, coworkers, and relatives, of their right to remain silent if immigration/police comes to your neighborhood or workplace.
What to do during a raid 
Do not let any immigration official or public officer into your home/house/apartment without a court warrant. If they do not have one, they need your authorization in order to go inside. DO NOT open the door. Ask them to put the warrant under the door. The warrant has specific names of people that he agents are looking for and should be signed by a judge. You should not open the door if the agents do not have a warrant or if it does not meet these requirements.
If immigration officials or police officers enter without proper authorization, ask for their names and/or write down their badge numbers.
Obtain the names and phone numbers of any witnesses.
Remain calm and do not try to run away. If you do so, immigration/police may use that against you.
Refuse to answer any questions regarding your birthplace and your legal status, unless a lawyer is present.
If you have children in school who will not have someone to watch them while you are detained, say so, and ask to make arrangements.
Know your rights