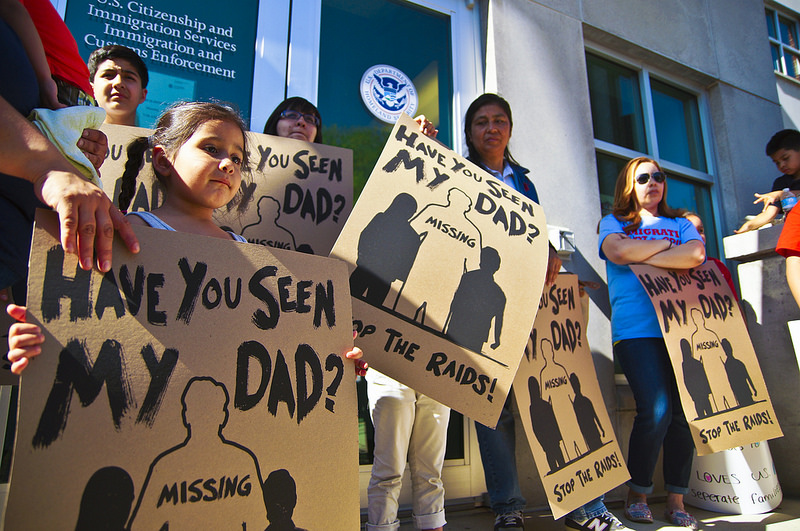 Reports have recently surfaced revealing that a Dreamer, 23-year-old Daniel Ramirez Medina, has been arrested and is currently in the custody of Immigration and Customs Enforcement Agents in Seattle, Washington. Medina was brought to the United States when he was only 7 years old and maintains Mexican nationality. In 2014, Medina first applied for the Deferred Action for Childhood Arrivals (DACA) program and was approved after satisfying the specific and rigorous criteria outlined by DHS qualifying him for the program. As part of the routine application process, Medina underwent an extensive background check, and was cleared by USCIS, resulting in the approval of his application for Deferred Action. The approval granted him the opportunity to remain in the United States under lawful "deferred status" for a 2-year period, subject to renewal. Two years later, Medina applied for a renewal of his deferred action status, and was approved for a second time, granting him an additional two-year period of "deferred action." Medina underwent a second background check as part of the renewal process, and again was cleared.
On February 10, 2017, Immigration and Customs Enforcement agents arrived at the home of Ramirez's father with an arrest warrant to detain his father. His father granted ICE officers permission to enter the home so that they could inform his sons about his arrest. ICE agents questioned Daniel Ramirez asking him if he was lawfully present in the United States. Daniel notified the agents that he was lawfully present and had a work permit. His brother, also a DACA recipient, who was present during the immigration raid, suggested that he remain silent and decline to answer additional questions. Ramirez was then arrested and detained by ICE agents, although Ramirez presented the agents with his employment authorization card that was issued pursuant to his approval under the DACA program, and clearly identified him as a DACA recipient with a 'C-33' classification code. Ramirez also told the officers several times that he was a DACA recipient lawfully present in the United States.
Ramirez maintains that he has no criminal record, and was unlawfully detained by ICE. His lawyers have since filed a lawsuit against the United States government alleging that his constitutional rights to live and work in the United States without fear of arrest or deportation were violated at the time he was arrested and detained by ICE. The Ramirez case has gained widespread attention because this appears to be the first time a person who has been granted "deferred action" pursuant to the DACA program, has been arrested and taken into immigration custody since the program's inception in 2012. Naturally, the arrest and detention of a Dreamer without sufficient grounds, is unlawful and unsettling for immigration advocates everywhere.
The case has received so much attention that the Department of Homeland Security has issued a statement regarding the arrest of Daniel Ramirez-Media. In their statement, DHS outlined that undocumented immigrants who have been granted deferred action pursuant to the DACA program, and who subsequently "pose a threat to national security or public safety, may have their deferred action terminated at any time" and DHS may remove that individual from the United States. Among the persons considered a threat to national security or public safety, DHS named those who have been arrested or convicted of certain crimes, and those associated with criminal gangs. DHS claims that Daniel Ramirez-Media is not the first DACA recipient to be arrested and detained.
As stated by DHS, since the DACA program's inception, it is estimated that DHS has revoked the deferred action of 1,500 DACA recipients who were convicted of certain crimes or had a gang affiliation. DHS claims that Daniel Ramirez-Media was arrested and detained because of his gang affiliation. DHS admits that Daniel's arrest occurred during a targeted enforcement operation against his father, and referred to him as a "prior-deported felon" in the statement. Ramirez's' lawyer spoke with the media and stated that Ramirez unequivocally denies being in a gang, and claims that he was coerced into falsely admitting a gang affiliation by US Immigration and Customs Enforcement agents while in custody. Ramirez, is currently awaiting a hearing before an immigration judge who will ultimately decide whether the government has any grounds to terminate his deferred action.
There are very important lessons to be learned from the Ramirez case.
If you are a DACA recipient, always have documented proof of your lawful status with you including your original I-797 Notices of Approval from USCIS, and your I-94 arrival/departure record.
If you have received deferred action, it is strongly recommended that you obtain a stamp in your passport from the Department of Homeland Security that indicates that you have been "paroled" into the United States based on your grant of DACA or "deferred status."
It is also recommended that you keep a copy of your DACA case (including renewals) that was filed with USCIS as proof of your continuous presence in the United States, in addition to new documentation to prove your continued presence in the United States since approval of your DACA application.
If an attorney filed your DACA case on your behalf, you should obtain a copy of your case from your attorney.
You should maintain substantial proof of your strong ties to the United States (proof of employment, lease agreement, academic or military enrollment, insurance policies, birth certificates of U.S. Citizen children, bank account statements, income tax returns etc.)
Lastly, come up with a plan with your family on how you will respond if an ICE officer comes to your door.
Remember that you have the right to remain silent and you have the right to speak to an attorney about your situation. Never under any circumstances sign a document presented to you by an immigration officer, and never admit any information you know to be false.
For more tips about what you should and should not do during an immigration raid please click here. If you would like to discuss your rights during an immigration raid, please contact our office for assistance.