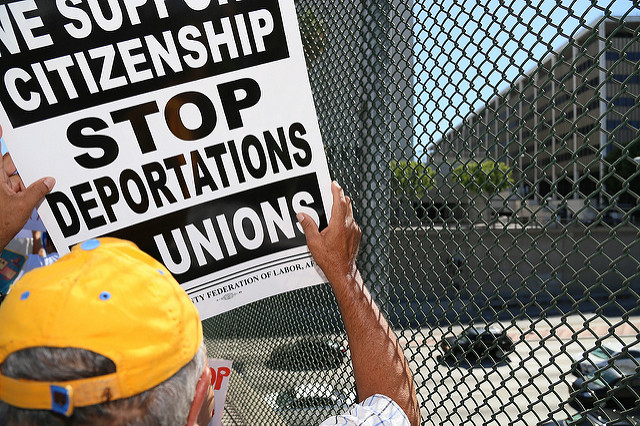 In early August of this year, reports began to emerge indicating that Immigration and Customs Enforcement (ICE) was planning a large-scale nationwide immigration operation, to crack down on undocumented criminals and gang members. The coordinated effort which purported to detain criminals and gang members, known within the agency as "Operation Maga," was set to begin on September 17th and was expected to continue over a five-day period.
Thanks to an internal memo circulated within the agency, details quickly came to light of the operation. According to an internal memo, ICE had been planning to conduct the nationwide immigration raids since at least mid-August of this year. In addition, law enforcement officials reported that the immigration raids were expected to target 8,400 undocumented immigrations, which according to the internal memo would make Operation Maga, "the largest operation of its kind in the history of ICE." Officials familiar with the operation reported that while the agency instructed officials to target only persons of interest, including gang members or perpetrators of serious crimes, DACA recipients not suspected of crimes, could inevitably have been detained in the frenzy.
When news outlets began to question ICE regarding the rumored raids, the agency had reported that it was "not able to speculate about potential future targeted enforcement actions."
After details of the memo were reported by the press, ICE issued a statement denying the existence of any such large-scale operation, and credited any "adjustments" in previously planned nationwide immigration operations to the humanitarian crisis posed by Hurricane Harvey and Hurricane Irma. It appears that these natural disasters put a damper on these large-scale ICE enforcement efforts.  It is unclear whether Operation Maga will continue after the humanitarian crisis in these regions has dissipated.
On September 7, 2017 ICE released the following statement about the recent changes to the agency's enforcement actions:
"While we generally do not comment on future potential law enforcement actions, operational plans are subject to change based on a variety of factors. Due to the current weather situation in Florida and other potentially impacted areas, along with the ongoing recovery in Texas, U.S. Immigration and Customs Enforcement (ICE) had already reviewed all upcoming operations and has adjusted accordingly. There is currently no coordinated nationwide operation planned at this time. The priority in the affected areas should remain focused on life-saving and life-sustaining activities.
For the safety and security of our communities, ICE fugitive operations teams will continue to target and arrest criminal aliens and other individuals who are in violation of our nation's immigration laws, in non-affected areas of the country, as part of routine operations."
According to an agency official, the Operation "would not have targeted juveniles" including DACA recipients.
It is also important to note that although the President has decided to phase out the DACA program, "deferred status" that was issued prior to the President's announcement will remain valid, and current DACA recipients whose status expires between now and March 5, 2018 will be allowed to apply for a final 2-year renewal of their "deferred status" to shield these individuals from deportation efforts. Such applications must be accepted by USCIS by October 5, 2017.
In addition, DACA recipients are not at risk for deportation until March 5, 2018—the deadline the President has given Congress to enact a law shielding Dreamers from deportation.
For assistance with your application of your final DACA renewal please contact our office.