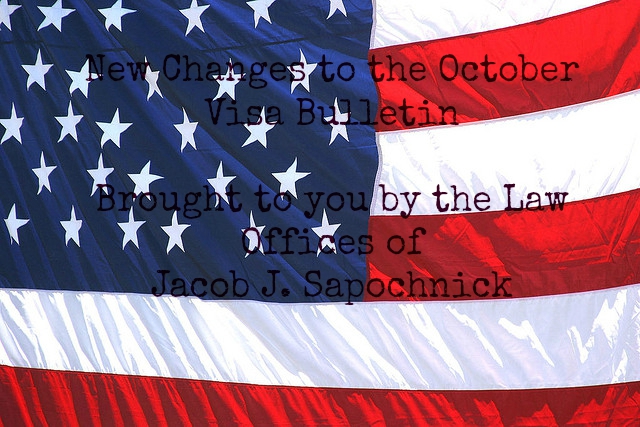 On September 9th the Department of State and USCIS jointly announced new procedures that will allow family-based and employment-based applicants stuck in immigrant visa backlogs to apply for an immigrant visa (adjustment of status) before their priority date becomes current and an immigrant visa becomes immediately available to them. These new procedures will be implemented beginning October 1, 2015 as part of President Barack Obama's executive actions on immigration with the purpose of modernizing and streamlining our legal immigration system for the 21st century. These new changes were introduced in the October Visa Bulletin. 
What is the Visa Bulletin?
The Department of State publishes a monthly report of visa availability known as the 'Visa Bulletin.' The Visa Bulletin is essentially a guide to be used by applicants and consular officials denoting visa availability for the issuance of visas at consulates and embassies worldwide. USCIS utilizes the Visa Bulletin to determine whether Form I-485, Application to Register Permanent Residence or Adjust Status, can be accepted for filing and processing. In order to file Form I-485 a prospective immigrant must determine whether a visa is available to them at the time the Form I-485 is filed and at the time Form I-485 is approved. The Department of State and Department of Homeland Security work together to revise the Visa Bulletin on a monthly basis estimating immigrant visa availability for prospective adjustment of status applicants. The DOS allocates available visas by providing visa numbers according to the prospective immigrant's preference category, country of birth and priority date. This allows distribution of visas for all preference categories. A prospective immigrant's priority date can be found on Form I-797 Notice of Action or 'Receipt Notice' for the petition filed on the applicant's behalf.
What is a Priority Date?
A priority date is generally defined as the "date when your relative or employer properly filed the immigrant visa petition on your behalf with USCIS."  For employment-based petitions, "if a labor certification is required to be filed with your immigrant visa petition, the priority date is the date the labor certification application was accepted for processing by the Department of Labor."
Until October 1, 2015 prospective immigrants can apply for adjustment of status only once their priority date becomes available or current based on their place in line on the Visa Bulletin queue. Waiting times have depended on the demand for immigrant visas and the visas available, per-country visa limitations, and number of visas allocated to each immigrant preference category.
Why is there a Visa Bulletin?
By law, the Immigration and Nationality Act (INA) limits the number of immigrant visas that may be issued to foreign nationals seeking to become U.S. permanent residents.
Due to these limitations, the US Department of State allocates immigrant visa numbers for family-based and employment-based petitions. Family-sponsored preference visas are limited to a minimum of 226,000 visas per year and employment-based preference visas are limited to a minimum of 140,000 visas per year. These limits can be exceeded where visa numbers from the previous fiscal year were not fully allocated. Family-sponsored and employment-based categories are further divided into sub-categories, each of which is given a certain percentage of the overall visa numbers. Additionally, there are limits given to the percentage of visas that can be allocated based on an immigrant's country of birth.
What has changed?
The October Visa Bulletin has introduced a new chart, titled 'Dates for Filing Applications' (in addition to the old chart known as the 'Application Final Action Date' chart listing single chart cut-off dates) that will allow family-sponsored and employment-based applicants to file their applications for permanent residence beginning October 1, 2015. In order to do so, your priority date must come before the new visa availability date that appears on the new 'Dates for Filing Applications' chart on the October Visa Bulletin. In other words, individuals with a priority date that is earlier than the 'Filing Date' cut-off on the new chart can file their adjustment of status applications beginning October first.
As announced by CIS:
Immigrant Visa Applicants (Consular Processing):Individuals with priority dates earlier than the date listed on the "Filing Date" chart for their preference category and country of chargeability will be notified by the National Visa Center that they may assemble and submit their documentation and begin the immigrant visa application process. However, a final decision on the immigrant visa application cannot take place until the priority date is current (i.e., is earlier than the "Final Action Date").
Adjustment of Status Applicants: Individuals who are in the United States and are eligible for adjustment of status must use the "Final Action Date" chart to determine when they may submit their applications for adjustment of status, unless the Visa Bulletin indicates that they may instead use the "Filing Date" chart. The early "Filing Date" chart may only be used by adjustment applicants if USCIS determines there are sufficient immigrant visas available to support the filing of additional adjustment applications beyond that which would be received under the "Final Action Date" chart. 
Why are these changes significant?
Prospective immigrant applicants will benefit from these new regulations because these changes will allow certain individuals to file their immigrant applications much earlier than they could previously under the old chart 'Application Final Action Date.' It is important to note that the benefit of filing an immigrant visa application under the new chart does not mean that prospective immigrants will receive their permanent resident cards before an immigrant visa becomes available. CIS will not process the immigrant visa application until a visa has become available according to the Application Final Action Date chart. In other words, prospective immigrants residing abroad can only file their immigrant visa applications under these new regulations, and the issuance of a permanent resident card will be made as soon as a visa becomes available. Applicants residing in the United States however will be able to receive an employment authorization card and advance parole travel document.
These changes are also significant particularly for employment-based applicants because it opens up the opportunity for employment portability within 180 days that the application for permanent residence is pending.
This chart compares 'Final Action Dates' to the new 'Filing Dates' on the October Visa Bulletin. Except for the F-1 Philippines and F-3 Mexico category, the Filing Date for the majority of family-based categories is less than a year and up to 2 years earlier than the final action date.
The employment-based categories most impacted by the October Visa Bulletin are:
EB-2 India: Final Action Date = 5/1/05; Filing Date = 7/1/11
EB-3 Philippines: Final Action Date = 1/1/07; Filing Date = 1/1/15
EB-2 China: Final Action Date = 1/1/12; Filing Date = 5/1/14
EB-3 China: Final Action Date = 10/15/11; Filing Date = 10/1/13
Want more information? Watch our informational video below.
Questions? Please contact us for further guidance.