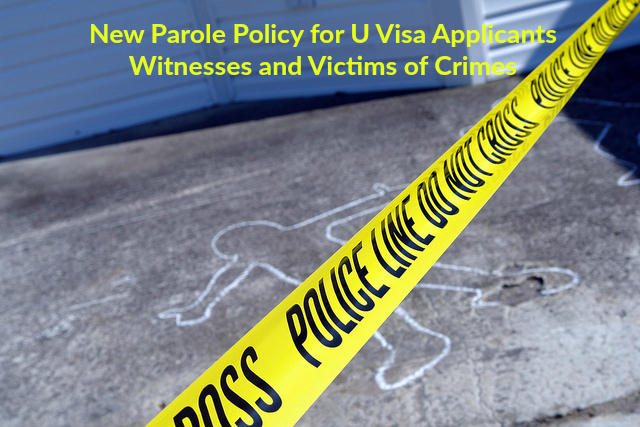 We are pleased to announce that USCIS will adopt a new parole policy, at the recommendation of the Ombudsman's office, for U visa principal petitioners and their derivative qualifying family members residing abroad, who are currently on waiting lists for the availability of U Visas. As a result of this new policy, eligible applicants will be able to seek parole into the United States and await availability of their U visas from the United States, instead of waiting from abroad.
The U visa was first implemented with the passage of the Victims of Trafficking and Violence Protection Act signed into law by Congress. This piece of legislation gave USCIS the authority to implement a special nonimmigrant visa classification known as the U visa. Presently, the U nonimmigrant visa is available to foreign nationals who have either been a witness to a crime in the United States, or who have suffered substantial mental or physical abuse as a victim of a crime that occurred in the United States. The U visa in effect creates a special class of nonimmigrants who may legally reside in the United States for the purpose of assisting law enforcement, or government officials, in ongoing investigations for the prosecution of certain crimes. Unfortunately, there is a congressional limitation on the number of U visa's that may be issued to principal U visa applicants. That limit is currently capped at 10,000 visas on an annual basis.
Once the 10,000 visa cap has been exceeded, U visa nonimmigrants are forced to remain abroad, and are placed on a waiting list. In order to expedite their entry to the United States, applicants must go through the extra step of applying for humanitarian parole from abroad in order to enter the United States. Such victims are often in danger or in vulnerable situations in their home countries. Most importantly their key testimony and cooperation is of no use to the United States if they are residing abroad.