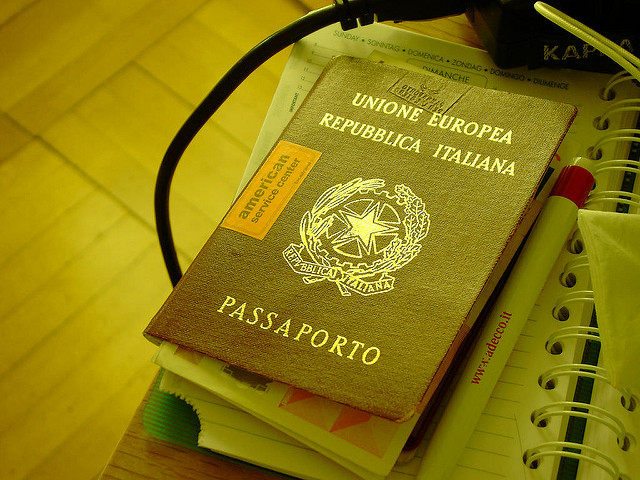 In this post we bring you exciting news about the 2018 Diversity Immigrant Visa Program also known as the "green card lottery" for eligible foreign nationals. Participants in the Diversity Immigration Visa Program will have a chance to win one of 50,000 available visas to immigrate to the United States. Winning entries will be selected at random via a computer-generated drawing. Only foreign nationals of countries with historically low rates of immigration to the United States may apply for the program; please see the list of eligible countries below. The entry period for the 2018 Diversity Immigrant Visa Program (DV-2018) will open between Eastern Daylight Time (EDT) (GMT-4), Tuesday, October 4, 2016, and noon, Eastern Standard Time (EST) (GMT-5), Monday, November 7, 2016. Entries must be submitted electronically on the Department of State website for the DV-2018 fiscal year. 
Only one entry may be submitted for each person during this registration period. Individuals who have submitted more than one entry per fiscal year will be disqualified. Once the registration period has ended the Department of State will use their computer software technology to detect multiple entries in the system. Applicants who have submitted multiple entries will be disqualified. There is no cost to register for the program and submit an entry for the diversity visa program. However, if accepted applicants will incur any visa expenses if residing abroad, and the filing fee for the green card application (currently $1,070). Once you have registered and submitted your entry for 2018-DV Program, you must check the status of your entry by visiting the Department of State website. The U.S. government will NOT notify you directly if you have been selected for the 2018-DV Immigrant Visa Program. It is your responsibility to check whether you have been selected.
What is the Diversity Immigrant Visa Program?
The Diversity Immigrant Visa Program is administered by the United States Department of State each fiscal year, and is a program that was made possible by Congress with the passage of section 203(c) of the Immigration and Nationality Act. Section 203(c) of the INA designates visas for a special class of immigrants referred to as "diversity immigrants." These immigrants will have the unique opportunity to immigrate to the United States on the basis of this special program. For fiscal year 2018, 50,000 visas will be allocated toward the diversity immigrant visa program. If you are residing abroad at the time you are selected for the diversity immigrant visa program, you will be able to immigrate to the United States through consular processing. This process requires you to submit a DS-260 Immigrant Visa Electronic Application and schedule an interview appointment at a U.S. consulate near you. There you will be able to obtain issuance of your immigrant visa. If you are residing in the United States legally (on a temporary nonimmigrant visa type) at the time of your selection, you may submit your adjustment of status application to USCIS within the United States.
The Department of State has historically distributed the allocation of diversity immigrant visas among six geographic regions in the world. No single country is authorized to receive more than 7% of the total available DV visas per fiscal year. For DV-2018 foreign nationals of the following countries are not eligible for the DV program because these countries have higher rates of immigration to the United States within the last 5 years: Bangladesh, Brazil, Canada, China (mainland-born), Colombia, Dominican Republic, El Salvador, Haiti, India, Jamaica, Mexico, Nigeria, Pakistan, Peru, Philippines, South Korea, United Kingdom (except Northern Ireland) and its dependent territories, and Vietnam. Persons born in Hong Kong SAR, Macau SAR, and Taiwan are eligible. Unlike previous years, Ecuador is eligible for DV-2018.
REQUIREMENTS FOR THE DIVERSITY VISA PROGRAM
You must be a native of a country participating in the diversity immigrant visa program; see list below. If you were not born in a participating country, you may be charged to your spouse's country of birth if both you and your spouse are on the selected entry, are issued diversity visas, and enter the US at the same time.
If you were born in a country where neither of your parents were born or reside, you may be charged to the participating country of birth of one of your parents.
ACADEMIC OR WORK EXPERIENCE COMPONENT
2. Diversity visa applicants must possess at least a high school diploma or its equivalent or qualifying work experience. To fulfill the academic component, applicants must demonstrate that they have successfully completed a 12-year course of formal elementary or secondary education (copy of the diploma and transcripts). To fulfill the work experience component, applicants must possess two years of work experience within the last 5 years in an occupation requiring 2 years of training or more (resume and work experience letters). Applicant's may utilize the Department of Labor's O*Net database to determine if they possess the qualifying work experience. On the O*Net database follow these steps to determine if your occupation qualifies:
Under "Find Occupations" select "Job Family" from the pull down menu;
Browse by "Job Family," make your selection, and click "GO";
Click on the link for your specific occupation; and 4. Select the tab "Job Zone" to find the designated Job Zone number and Specific Vocational Preparation (SVP) rating range.
LIST OF ELIGIBLE COUNTRIES BY REGION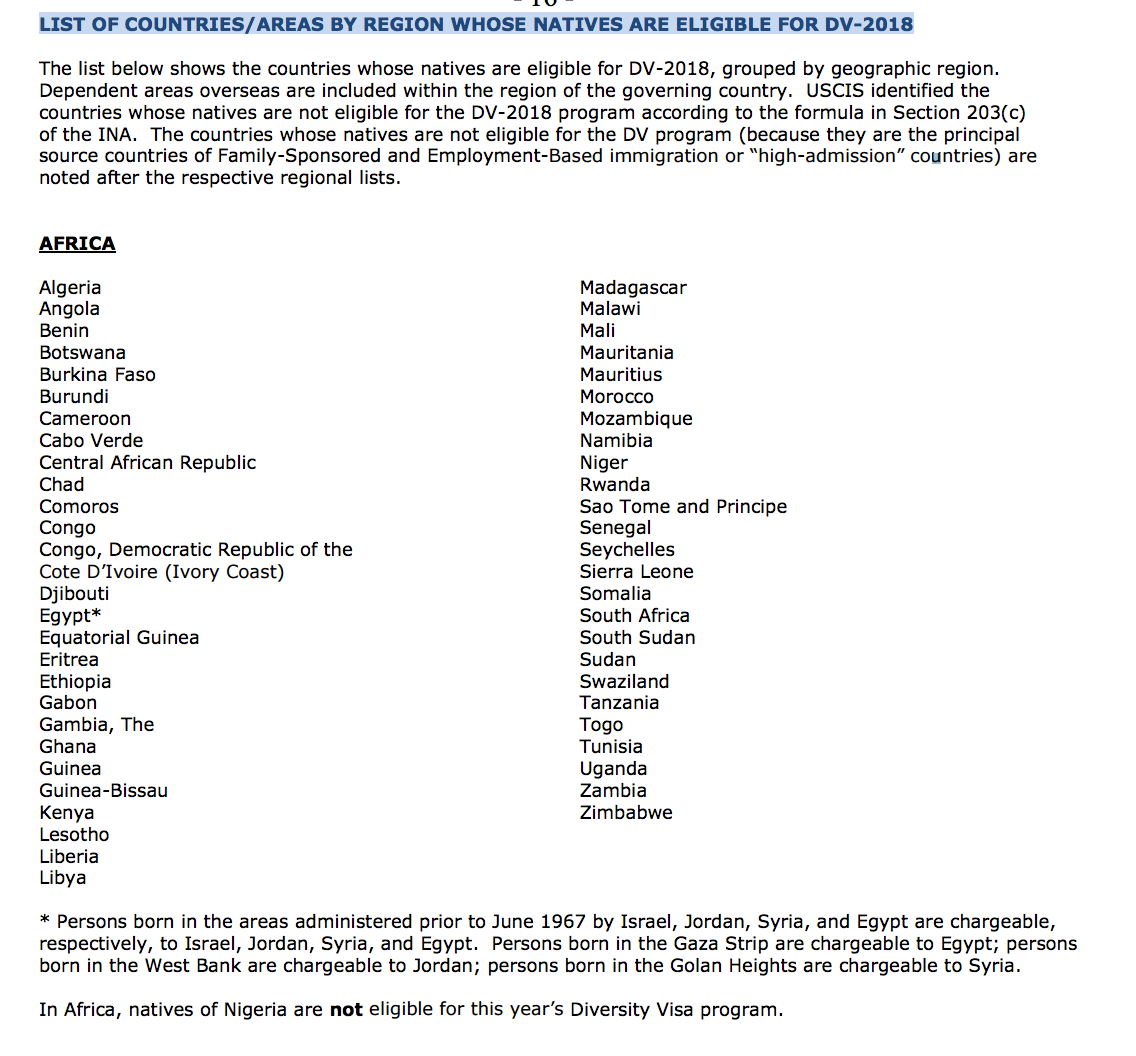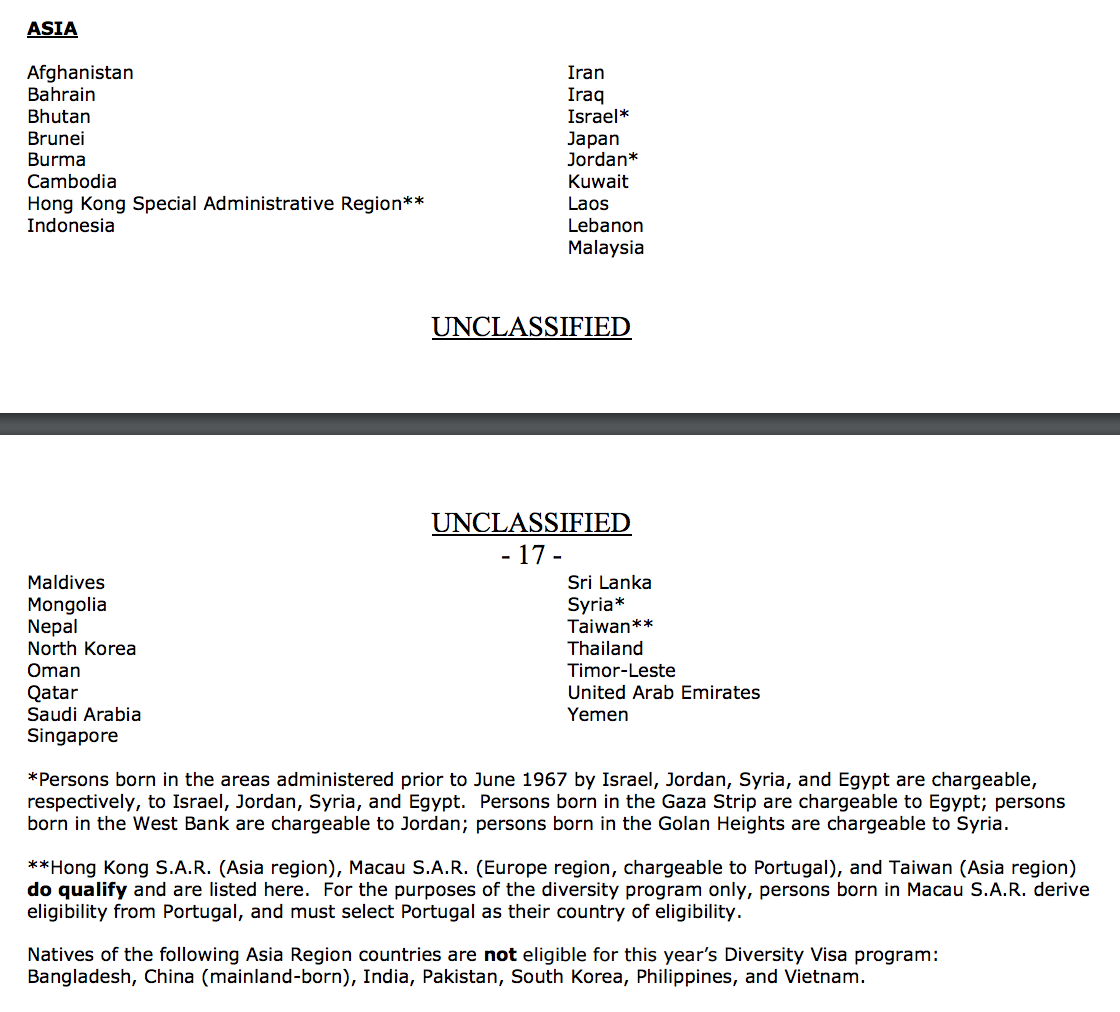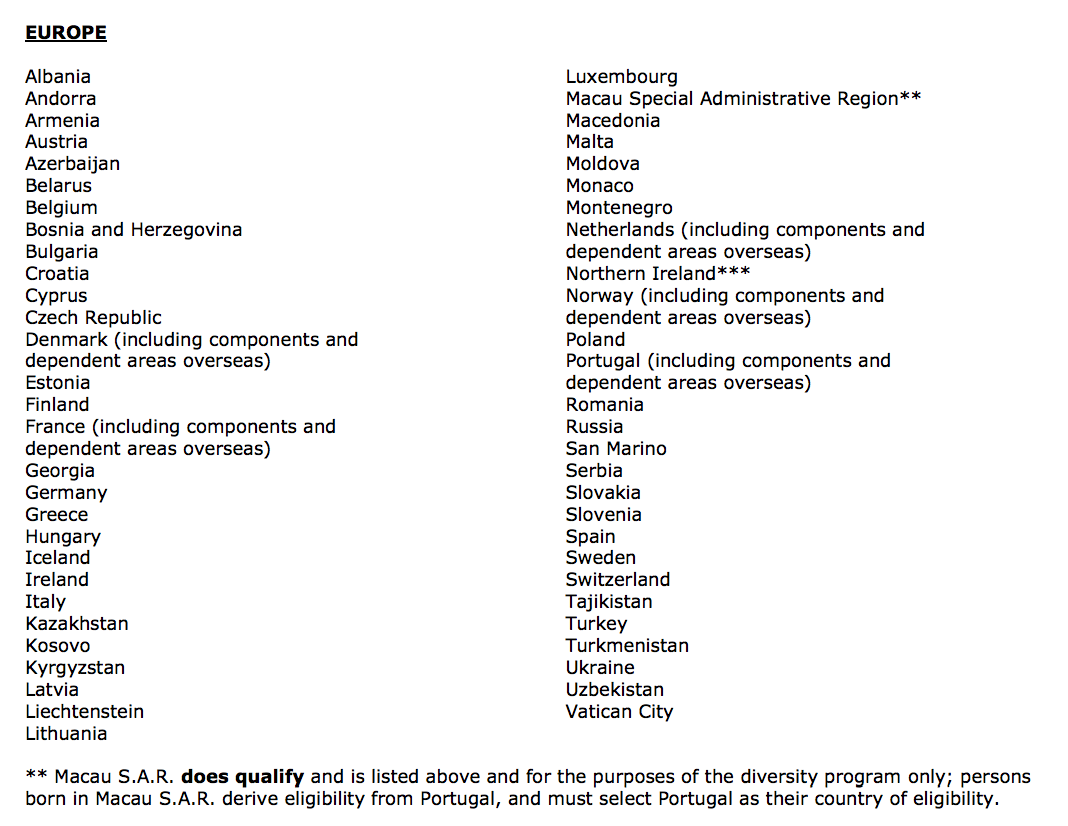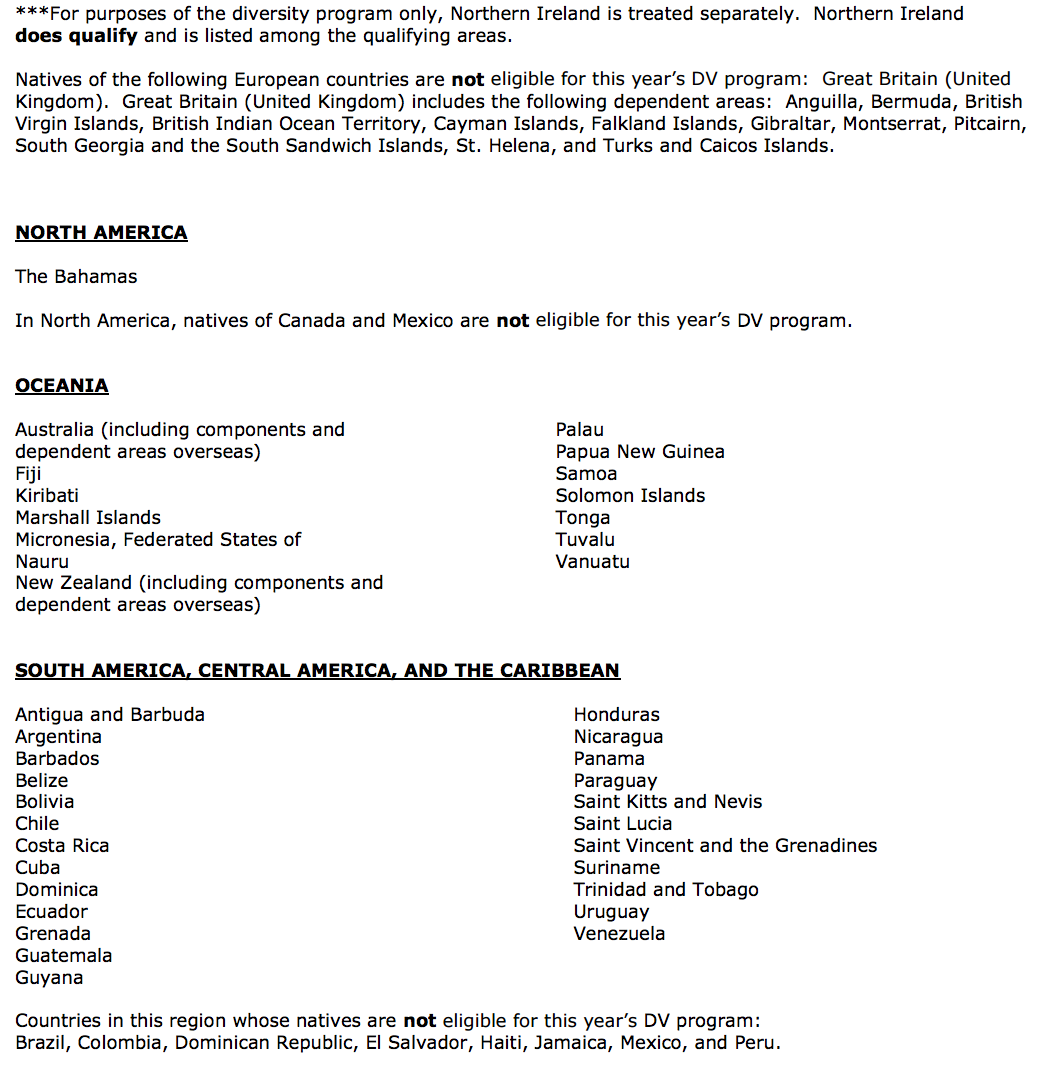 IMPORTANT: Once selected, applicants may only apply for diversity visa issuance during the fiscal year in which they were selected. Applicants are strongly encouraged to apply for their diversity visas as soon as possible, before available visas have been allocated. Visas must be obtained by the end of the fiscal year during which the applicant was selected. If you do not obtain your visa or adjust status by the end of the fiscal year, your entry will not carry over to the following year and you will forfeit your selection.
For more information about the Diversity Immigration Visa Program please visit our website. For the 2018 Diversity Immigrant Visa Program Instructions please click here.