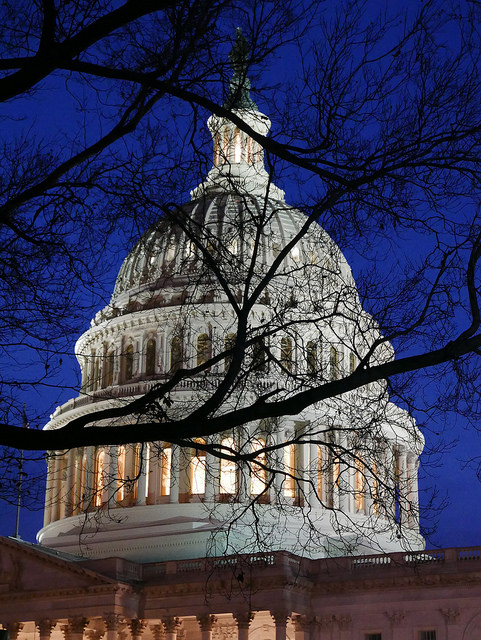 On Sunday night, a group of Republican Senators met to draft the Republican party's version of the President's immigration framework, in preparation for a floor debate that will take place Monday night on immigration. The Republican bill is one of many proposals that will be considered by the Senate as part of the ongoing immigration debate. The proposed bill, known as the Secure and Succeed Act of 2018, drafted by Republican Senators Chuck Grassley, John Cornyn, James Lankford, Thom Tillis, David Perdue, Tom Cotton, and Joni Ernst, mirrors the Trump administration's immigration framework.
Over the next few weeks Senators will vigorously debate and amend proposals on immigration with the goal of coming up with a piece of legislation that can garner at least 60 votes in the Senate to advance to the House of Representatives. The process will involve a free-for-all debate on the Senate floor that will allow Senators to propose amendments, with the goal of coming up with a bipartisan solution to shield Dreamers from deportation.
The GOP currently has a 51-49 majority in the Senate, making it necessary for Republicans to obtain support from Democratic Senators to reach the 60-vote threshold. Republicans have a large enough majority in the House of Representatives that they do not need a single Democratic vote to pass desired legislation.
Path to Citizenship for Dreamers
The Republican proposal focuses on providing a 12-year path to citizenship for up to 1.8 million people including DACA eligible recipients. Undocumented immigrants currently enrolled in DACA would receive a 2-year credit allowing them to obtain citizenship within 10 years. The criteria to obtain citizenship would require an individual to have:
Obtained a high school diploma or equivalent (if over 18 years of age.)
Arrived in the U.S. before 16, prior to June 15, 2012. Was under the age of 31 on June 15, 2012. Same standards used by the Obama Administration for DACA.
Pass a strict criminal background and good moral character checks.
Sign a conditional departure order that may be enforced if the individual violates certain terms of their status.
If 18 or older, pursue one or a combination of three tracks: (1) Serve in the Military; (2) Pursue a postsecondary or vocational degree; or (3) Maintain full time gainful employment.
Conditional status would be revoked for criminal behavior or failure to meet eligibility criteria.
Scaling Back Extended-Family Migration
In line with the President's immigration framework, the proposal would (1) drastically limit family-based immigration to spouses and unmarried children under 18 years of age (2) grandfather all immigrants waiting in line for a pending family-based petition (3) allow parents of U.S. citizens to receive non-immigrant visas to enter the United States for a renewable 5-year period setting a numerical cap at approximately 150,000 visas per year and (4) family-based immigration reforms for extended family members such as siblings and adult children would not take place until clearance of existing backlogs. This would give Congress ample time to enact merit-based immigration reforms.
Terminating the Diversity Visa Lottery Program
Also following Trump's lead, the proposal would terminate the Diversity Visa Program and re-allocate the 55,000 visas to reducing and eliminating the existing family-based and employment-based backlogs.
Border Security
The proposal calls for $25 billion to fund the completion of a 10-year border security plan, similar to Trump's immigration proposal, which would support tactical infrastructure, detection technology, personnel, and port of entry improvement. The proposal curiously leaves out the term "border wall" and instead replaces the language with "tactical infrastructure," likely because Democratic Senators are largely opposed to funding the border wall the President envisions.
Among other things the proposal would beef up surveillance capabilities and the presence of CBP, ICE, and other law enforcement personnel on the Southern border. The proposal would also penalize multiple illegal entries/unlawful border crossings by enforcing Kate's Law, allow for expedited removal proceedings of unaccompanied children, as well as visa overstay offenders subject to a 30-day grace period, end Catch and Release, increase penalties for human smuggling, expedited removal of human smugglers,  update inadmissibility/removability grounds for drug traffickers, gang members, sex offenders, multiple DUI offenders, human traffickers, terrorists, and violent and dangerous felons, and permanently authorize the voluntary E-verify program.
Looming Deadline
Congress has been given until March 5, 2018 to pass legislation that will shield Dreamers from deportation, and take into account the Trump administration's immigration proposal. Senate Majority leader Mitch McConnell will propose a "shell bill" which is a bill that can be amended and debated over the next few weeks. Senators begin to cast their votes Monday evening.
We will keep our readers informed on any new developments.