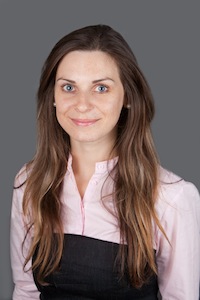 It is our pleasure to introduce our readers to our senior case manager, Inese Grate, one of the original members of the Law Offices of Jacob J. Sapochnick. Ms. Grate joined our firm when there were merely 2 employees working at the office. In addition to studying law in Latvia, Ms. Grate received her Master's in Law in International Business Transactions from Temple University Beasley School of Law and attended the International Law Institute at Georgetown University School of Law.
Ms. Grate specializes in business and family immigration, corporate, international trade, and international transactions. Ms. Grate provides consultation on strategic investment in the United States for international clients and corporations to identify potential opportunities, create jobs, and develop successful businesses. Throughout her professional career, she has taken several international and U.S. startup companies from an ideation phase through to establishment and registration. Ms. Grate is unique in that she thinks outside of the box and is able to utilize her professional network of financial advisors, real estate brokers, investors and industry experts to assist our clients based on their unique needs. Throughout her career, Ms. Grate has helped numerous corporations and individuals in the United States as well as several European countries in various immigration/business related issues. Ms. Grate evaluates business plans and works on all related immigration issues including visas, licenses, and permits. She has helped in numerous cases in this area for the past few years.
Her expertise encompasses a broad range of sectors including hospitality, retail, financial services, consumer products, information technology, and public service.
Prior to joining our office, Ms. Grate was a contributor and legal consultant to World Bank, Washington D.C, on matters related to the European Union public and private sector. She provided advice to the Department of Public Sector Governance on strategic relationships between the U.S. and European corporations. Ms. Grate was a political officer at the Ministry of Economics in the northern European county, Latvia, serving as the leading member of the international private business group practice. In this role, she developed and negotiated numerous provisions, proposals and strategies for private and public entities and presented them before the European Union Commission in Brussels, Belgium.
Ms. Grate is fluent in Russian and Latvian. She is an active member of the legal community serving as the chair of the Diversity Division for the San Diego Bar Association. She is also a member of the Lawyers Club of San Diego, San Diego Rotary Club, and the European Union of Lawyers. While not at work she enjoys playing the piano, dancing, baking, and traveling.
Want to schedule an appointment for a legal consultation with Ms. Grate? Please contact our office by clicking here.