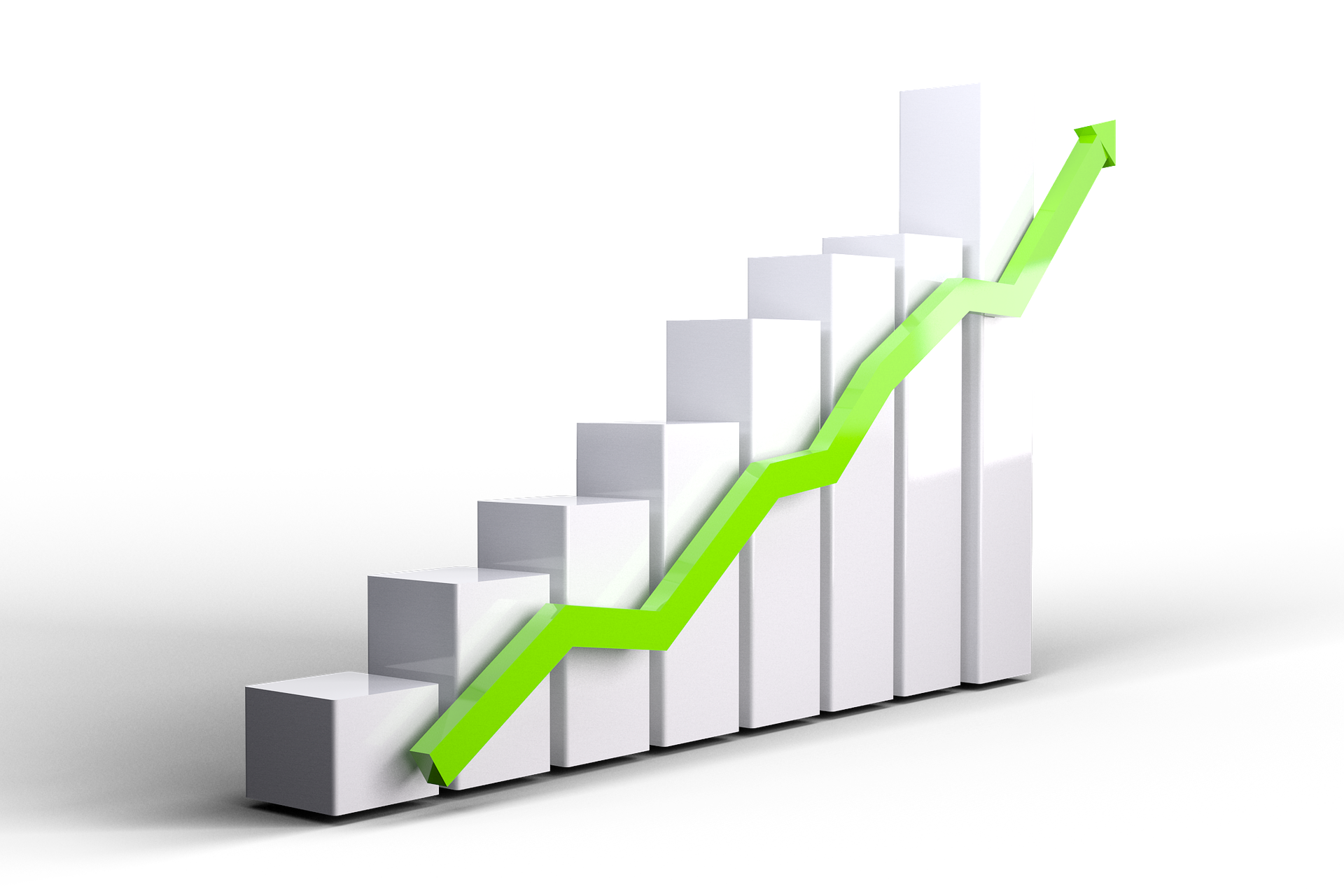 This Friday afternoon, we share with you some interesting new insights revealed by the U.S. Citizenship and Immigration Services regarding the recent H-1B electronic registration period for fiscal year 2024.
USCIS has disclosed that this H-1B season, it received 758,994 eligible registrations for FY 2024, breaking its previous record of 474,421 eligible registrations just the previous year.
This represents a 60% increase in eligible registrations, with 284,573 more registrants in comparison to last year's H-1B season.
In terms of actual selections, USCIS selected a total of 110,791 registrations to meet the annual H-1B numerical cap of 85,000 visas this H-1B season. When crunching the numbers, registrants had about a 14.6% chance of being selected, when compared to last year when the chance of selection sat at 26.9%.
This H-1B season, USCIS saw a dramatic increase in the number of registrations submitted, in comparison to prior years. Across the board, there was also an increase in the number of registrations submitted on behalf of beneficiaries with multiple registrations, and the number of registrations submitted on behalf of unique beneficiaries with only one registration. USCIS saw upward trends in the FY 2022 and FY 2023 H-1B registration periods as well.
From looking at the chart below for H-1B fiscal years 2021-2014, one can see that the competition has become greater and greater for H-1B visas year by year, however FY 2024 stands out in particular as the most competitive H-1B season overall.
---
This chart shows registration and selection numbers for fiscal years 2021-2024 (as of April 24, 2023).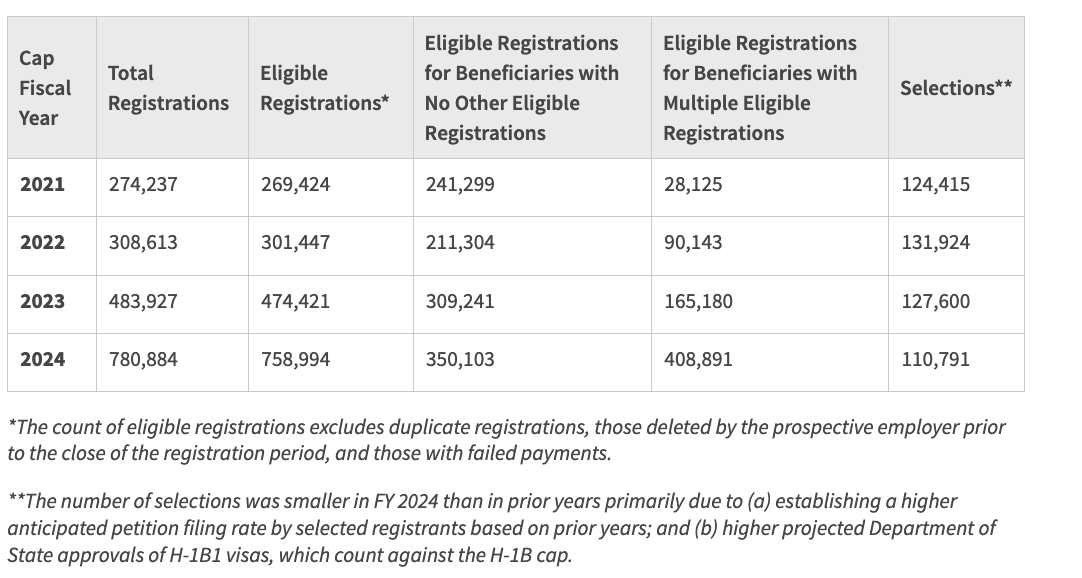 ---
Specifically, the selection rate this H-1B season was significantly lower than all previous H-1B seasons. According to USCIS, there were fewer registrations selected this season, because of higher demand for Chile/Singapore H-1B visa (cap-exempt), and projections showing a higher rate of filings from employers whose registrations were selected in the cap lottery.
---
Why the increase in H-1B registrations this season?
---
Various different factors resulted in the dramatic increase in H-1B filings this season, including the uncertain labor market, and a great increase in the amount of beneficiaries with multiple eligible registrations. USCIS reported 408,891 total registrations on behalf of individuals with multiple eligible registrations – meaning from different employers submitting registrations on behalf of a prospective employee, to increase their odds of selection.
Example: Employee X receives multiple job offers from Company A, B, and C. All such companies submit separate registrations on behalf of Employee X, increasing the odds of Employee X being selected by one of more of these companies.
Unfortunately, this has caused USCIS to question the legitimacy of these registrations and the potential misuse of the H-1B registration system.
According to USCIS, the agency is taking certain security measures to combat fraud in the H-1B registration process and refer fraudulent conduct to law enforcement for criminal prosecution as follows:
Measures to Combat Fraud in the Registration Process
The large number of eligible registrations for beneficiaries with multiple eligible registrations – much larger than in previous years – has raised serious concerns that some may have tried to gain an unfair advantage by working together to submit multiple registrations on behalf of the same beneficiary. This may have unfairly increased their chances of selection. We remain committed to deterring and preventing abuse of the registration process, and to ensuring only those who follow the law are eligible to file an H-1B cap petition.
We remind the public that at the time each registration is submitted, each prospective petitioner is required to sign an attestation, under penalty of perjury, that:
All of the information contained in the registration submission is complete, true, and correct;
the registration(s) reflect a legitimate job offer; and
the registrant, or the organization on whose behalf the registration(s) is being submitted, has not worked with, or agreed to work with, another registrant, petitioner, agent, or other individual or entity to submit a registration to unfairly increase chances of selection for the beneficiary or beneficiaries in this submission.
If USCIS finds that this attestation was not true and correct, USCIS will find the registration to not be properly submitted and the prospective petitioner would not be eligible to file a petition based on that registration. USCIS may deny a petition, or revoke a petition approval, based on a registration that contained a false attestation and was therefore not properly submitted.
Furthermore, USCIS may also refer the individual or entity who submitted a false attestation to appropriate federal law enforcement agencies for investigation and further action, as appropriate.
Based on evidence from the FY 2023 and FY 2024 H-1B cap seasons, USCIS has already undertaken extensive fraud investigations, denied and revoked petitions accordingly, and is in the process of initiating law enforcement referrals for criminal prosecution.
The H-1B program is an essential part of our nation's immigration system and our economy, and USCIS is committed to implementing the law and helping meet the ever-changing needs of the U.S. labor market. We are working on an upcoming H-1B modernization rule that will propose, among other improvements, bolstering the H-1B registration process to reduce the possibility of misuse and fraud in the H-1B registration system.
---
Will there be a second H-1B visa lottery for FY 2024?
---
Unfortunately, we do not know. Historically, in previous seasons, second lotteries have taken place in June or July, therefore it is too early to tell if there will be a second lottery for FY 2024. It is important to point out that during the H-1B season for FY 2023, USCIS did not conduct a second lottery.
Once we have further information, we will post it right here on our blog.
---
Contact Us. If you would like to schedule a consultation, please text 619-569-1768 or call 619-819-9204.
---
Helpful Links
---
JOIN OUR NEW FACEBOOK GROUP
Need more immigration updates? We have created a new facebook group to address the impact of the new executive order and other changing developments related to COVID-19. Follow us there.
For other COVID 19 related immigration updates please visit our Immigration and COVID-19 Resource Center here.