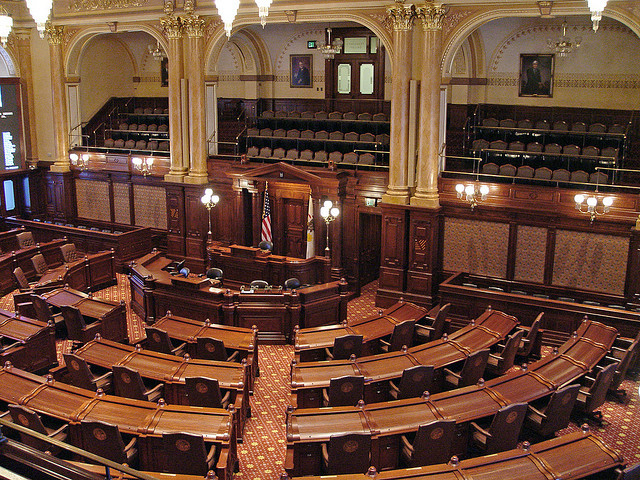 On October 20, 2015 Democrats in the Senate successfully blocked the Republican backed bill S. 2146: Stop Sanctuary Policies and Protect Americans Act from moving forward with a vote of 54-45. At its core, the bill aimed to hold sanctuary jurisdictions accountable for noncompliance of federal orders including detainment of undocumented immigrants, increasing penalties for individuals caught re-entering the United States after their removal, and providing protection to state and local law enforcement officials cooperating with federal law enforcement officials. The bill was introduced by Republicans after an act of violence took the life of a San Franciscan woman at the hands of an alleged undocumented immigrant with a felony record, who had also been the subject of multiple removals. Public outcry ensued after the city sheriff released the perpetrator despite a federal immigration detainment order. According to Republicans, San Francisco is one of hundreds of sanctuary cities that refuse to comply with federal immigration orders to facilitate the detainment and removal of undocumented immigrants.
Among its provisions, the bill aimed to crackdown on so called 'sanctuary cities' notorious for their noncompliance by limiting government funding. By cutting necessary funding, Republicans hoped that this would force cooperation between local law enforcement officials and federal law enforcement officials including ICE officers. Republican Senator Vitter who introduced the bill, argued that the violent crime that occurred in San Francisco was just one example highlighting the magnitude of compliance concerns. According to Vitter, 'sanctuary cities' like San Francisco have repeatedly refused to comply with orders of detainment issued by the Department of Homeland Security. Prior to the vote, the White House had warned Senate Republicans that if the bill did pass with the 60 necessary votes, they could expect the President to veto the bill. Although the bill was criticized by Democrats for stereotyping undocumented immigrants and making sweeping allegations against the undocumented immigrant community, the bill raises serious competence and compliance concerns.
Democrats voiced numerous grounds for opposing the bill. First, while the bill makes valid points, it stops short of offering comprehensive immigration reforms necessary to hold violent criminals accountable for their actions. The bill does not make convicted felons and violent offenders, who are otherwise a threat to our national security, a priority for deportation. Instead the bill groups all undocumented immigrants into one category making the presumption that the majority of undocumented immigrants living in 'sanctuary cities' are violent criminals and priorities for removal. For this reason, the 'sanctuary cities' bill was dubbed 'the Donald Trump' bill by Democrats. Secondly, the bill contradicts the provisions of President Obama's executive actions on immigration which intend to apprehend and remove only those undocumented immigrants with criminal records and prior convictions. Instead, the Obama administration has vowed to extend the Deferred Action for Childhood Arrivals program and create Deferred Action for Parents of Americans and Lawful Permanent Residents for immigrants who have not been convicted of a felony, significant misdemeanor, do not pose a national security threat, and are not priorities for removal. Unfortunately the legality of the extended DACA and DAPA programs is still in question in federal court. The 'sanctuary cities' bill is a clear departure from the Obama administration's policies on immigration. Lastly, the bill intended to make state and local law enforcement a policing power for federal law enforcement officials. State and local law enforcement officials are not obligated to assist federal law enforcement officials and are neither trained nor possess the resources to do so. Additionally, law abiding undocumented immigrants who would otherwise be eligible to apply for extended DACA and DAPA might be overly suspicious of the 'sanctuary cities program' and no longer feel safe applying for these legal benefits. The bill also failed to address the intended or unintended repercussions that might arise as a result of a crackdown on 'sanctuary cities.' For instance, it is well known that many sanctuary cities and states have passed legislation making it possible for law abiding undocumented immigrants to receive certain benefits such as driver's licenses, with the passage of AB-60 in California, and identification cards for undocumented immigrants residing in New York City, with the passage of the IDNYC program. These programs are fundamental because they allow law abiding undocumented immigrants to become integrated in their community and provide individuals an incentive to apply to these programs.
An approval of the bill would be a step in the wrong direction. The enormous strides that have been made to gain the trust of law abiding undocumented immigrants with the launch of such programs would evaporate in seconds.
Tell us your thoughts on the 'sanctuary cities' bill in the comments below.
For the complete roll call list on how your Senators voted click here. For legal questions please contact our office, your immigration is our passion.