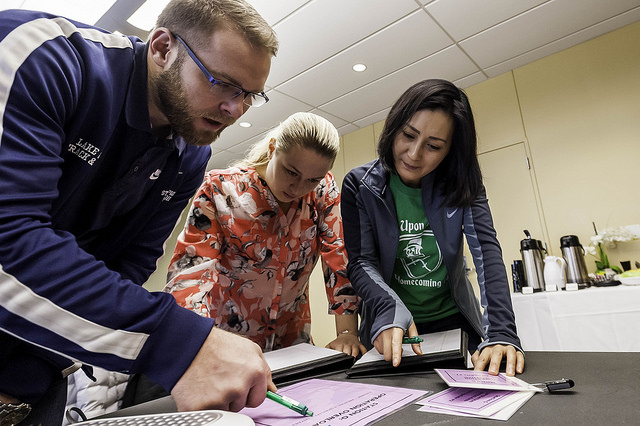 Beginning April 3, 2017, the United States Citizenship and Immigration Services (USCIS) will temporarily suspend expedited processing of H-1B visas, a service previously available to H-1B petitioners known as premium processing. The reason: to reduce overall H-1B processing times and prioritize processing of H-1B extensions nearing the 240-day mark. Premium processing previously guaranteed a 15-day processing time, or refund of the $1,225 premium processing fee. Although premium processing did not increase a petition's chances of being selected for an H-1B visa, it gave petitioners the benefit of waiting a shorter period and allowed selected petitioners the option of upgrading their application to premium processing after filing.
Petitioners will not have the option of paying for the premium processing service for a period of at least 6 months beginning April 3, 2017. The suspension will affect all H-1B petitions filed on or after April 3, 2017 including all petitions filed for the FY18 H-1B regular cap and master's advanced degree cap exemption. Additionally, the suspension may affect petitions that are cap-exempt, but will not apply to other eligible nonimmigrant classifications filed with Form I-129.  While the premium processing service is suspended, petitioners may not file a request for premium processing (I-907) for an I-129 Petition for H-1B worker until USCIS has announced that it has resumed premium processing for H-1B petitions. Beginning April 3, 2017 if a petitioner submits a single check combining fees for premium processing and the Form I-129 USCIS will reject both applications (not just the request for premium processing). To avoid this DO NOT submit any premium processing requests on or after April 3, 2017.
Again, the suspension is not expected to be lifted until about October 3, 2017. Because regular processing of H-1B applications (not filed with premium processing) typically takes about three to six months, once the suspension is lifted in October it will be of little use to petitioners who applied for the FY 18 H-1B regular cap or master's cap.
Petitioners who will not be affected by this temporary suspension are those who properly filed a request for premium processing BEFORE April 3, 2017. USCIS will refund the premium processing fee if USCIS will not be taking adjudicative action on the petition within the guaranteed 15-calendar-day period, if the premium processing request was properly filed before April 3, 2017.
Discretionary Expedite Requests:
H-1B applicants may request expedited processing on a case-by-case basis granted at the discretion of USCIS only if the petition meets one or more of the following criteria and the petitioner can provide documentary evidence in support of the request:
Severe financial loss to company or ​person​;​
Emergency situation;​
Humanitarian reasons;​
Nonprofit organization whose request is in furtherance of the cultural and social interests of the United States​;​
Department of Defense or ​n​ational ​i​nterest ​s​ituation (These particular expedite requests must come from an official U.S. government entity and state that delay will be detrimental to the government.);​
USCIS error; or​
Compelling interest of USCIS.​
For more information on the H-1B visa please visit our website. For a free first time consultation please contact our office for an appointment.