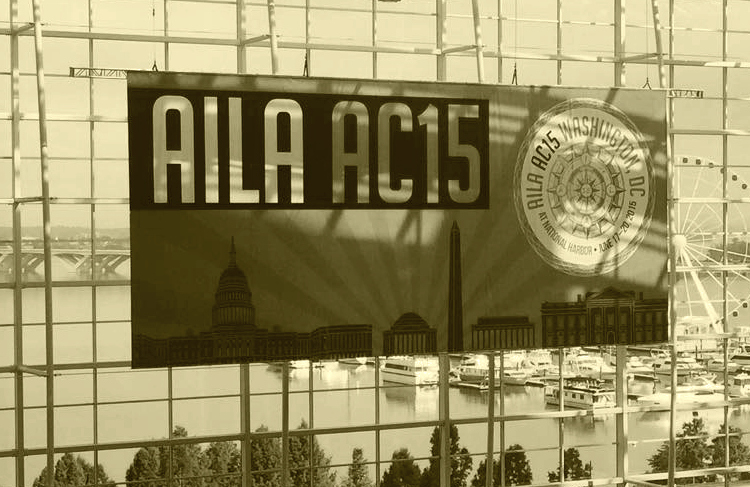 Presently, attorneys Jacob Sapochnick, Esq., Ekaterina Powell, Esq., and Yingfei Zhou, Esq. from our office are in attendance at the 2015 American Immigration Lawyers Association (AILA) Conference on Immigration Law taking place in Washington, DC. Together, they have had the privilege of being present for an open forum where officials from the Department of State and the National Visa Center provided valuable information in regards to modernization of PERM, improvements in visa processing at the National Visa Center, technical issues experienced at U.S. Consulates abroad, H-1B fee announcements, and more!
Technical issues experienced at U.S. Consulates worldwide
1. In regards to technical issues causing delays in visa issuance at U.S. Consulates worldwide, visa issuance is currently frozen. No visas are currently being issued at any U.S. Consulates worldwide. U.S. Consulates are rescheduling appointments for visas that were affected by the technical issues. The DOS is working to repair the hardware, however it will not be until next week when all issues will be resolved. Due to this, there will be a backlog for visa issuance and it will take longer to schedule a consular appointment for a visa.
2. If a visa applicant was affected by the technical issues at a U.S. Consulate abroad and they need to retrieve their passport urgently, they will be able to retrieve their passport, however, in doing so, applicants will forfeit the visa fees they have paid, and will be issued a 221(g) visa denial letter. If applicants are still interested in receiving a visa, they must re-apply and re-pay any visa fees. Applicants who are re-applying must note on future applications that their visa was denied due to a technical glitch. Applicants from visa waiver countries who are concerned that the visa denial will automatically result in an ESTA denial can rest assured. ESTA submissions will not be denied based on the technical glitch. DOS has responded that the technical issues will not affect future visa applications.
DOS Response to Decisions made at the Consular Level
3. In regards to consular officer decisions, the DOS has stated that all consular officer decisions are NON-REVIEWABLE. The DOS does not have the authority to review decisions nor can it tell consulates how to adjudicate cases. The DOS can only advise and clarify legal issues.
NVC moves to an electronic system and NVC improvements
4. The National Visa Center will be moving from a paper system to an electronic system in the next 1.5 years. 6 posts are already utilizing electronic processing.
5. Review of documents sent to the National Visa Center will take less than 30 days. The NVC plans to hire more officers to handle the case load and cut down current review time.
DOL plans to modernize operations 
6. The DOL is currently devising ways to make operation more efficient. Changes that will be made include improving DOL departmental structure, staff arrangement, and making the application process faster and more efficient. All organizational changes will be finalized by year end, with final improvements to be announced to the public in the future — from William Thompson, Administrator, Office of Foreign Labor Certification
Fee proposals for H-1B, H-2B, and PERM applications
7. Fee proposals for H-1B, H-2B, and PERM applications (in labor certification, etc.) are currently being deliberated before Congress. The DOL hopes these proposals will be approved within the next 3-4 years to give the DOL time to accommodate the proposed changes and allocate resources accordingly.
The H-2B program Re-Emerge
8. The H-2B program restarted on 04/28 following its closure.
Modernization of PERM
9. The DOL acknowledges that the PERM management system is outdated and needs to be modernized significantly.
Improvements to Labor Certification Applications
10. The DOL has noticed that harmless errors are commonly made on DOL forms, mistakes that cannot be corrected, except by re-filing—a process that is time-consuming. At this time the DOL is looking into ways to easily resolve these errors.
PERM Audits
11. The DOL has said that the number and percentage of PERM Audits expanded significantly in 2014. At this time the DOL is overwhelmed with a large audit case load and is working very slowly to respond. The DOL is working to make this process faster and will provide monthly updates on their website.
DOL Outreach
12. The DOL is working on providing more frequent policy updates, disseminating news to the public, and conducting community outreach initiatives.
2015 H-1B LCAs
13. There was a 21% increase in the number of H-1B LCA verification requests received compared to last year. All were able to be processed within 7 working days.
It is our pleasure to bring you the most up to date information from the AILA conference directly to you. For questions please contact us.