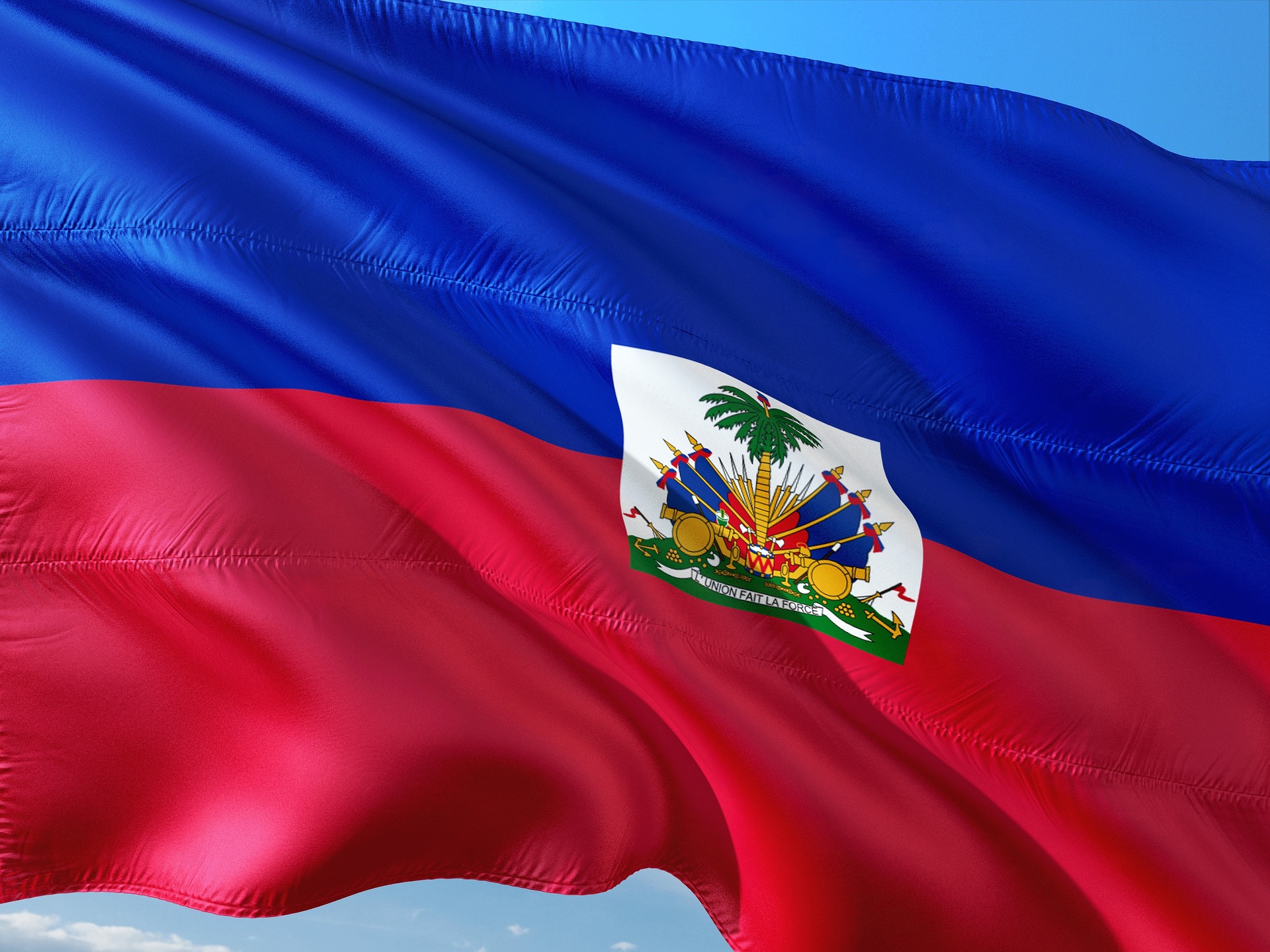 We close off the week with some new announcements from the United States Citizenship and Immigration Services (USCIS) regarding TPS extensions for Haitian nationals, and USCIS commitments to improve immigration in the new year – fiscal year 2023.
---
TPS Extended for Haitian Nationals
---
On December 5, 2022, the Secretary of Homeland Security, Alejandro N. Mayorkas, announced that the TPS designation for Haiti will be automatically extended for 18 additional months. Haitian nationals with TPS benefits will have the opportunity to re-register for an extension of their TPS benefits for a period of 18 months from February 4, 2023, through August 3, 2024.
This automatic extension has been granted because the Secretary has determined that conditions continue to exist to support Haiti's TPS designation due to extraordinary and temporary conditions in the country including a prolonged political crisis, insecurity, gang violence, and catastrophic earthquakes. According to Secretary Mayorkas, "The conditions in Haiti, including socioeconomic challenges, political instability, and gang violence and crime – aggravated by environmental disaster – compelled the humanitarian relief we are providing today."
As a reminder, Haitians entering the United States after November 6, 2022, are not eligible for TPS benefits and, will be subject to removal from the United States if they have no legal basis to remain in the country.
TPS will apply only to those individuals who have already been residing in the United States as of November 6, 2022, and who meet all other requirements to receive the TPS extension. Those who attempt to travel to the United States after November 6, 2022, are NOT eligible for TPS benefits.
Soon, the Department of Homeland Security will publish a notice in the Federal Register explaining the eligibility criteria and procedures to re-register for TPS, renew Employment Authorization Documents (EADs), and submission of initial TPS application under the re-designation.
For more information, please click here.
---
USCIS Releases Progress Report with Commitments for FY 2023
---
Yesterday, December 7, 2022, USCIS released its Fiscal Year 2022 progress report which reveals how the agency has been reducing its backlogs during the COVID-19 pandemic and its commitments in fiscal year 2023.
According to data released by USCIS:
---
USCIS and the Department of State issued all available employment-based immigrant visas in FY 2022 – double the pre-pandemic number
Total number of employment-based immigrant visas issued by country and fiscal year: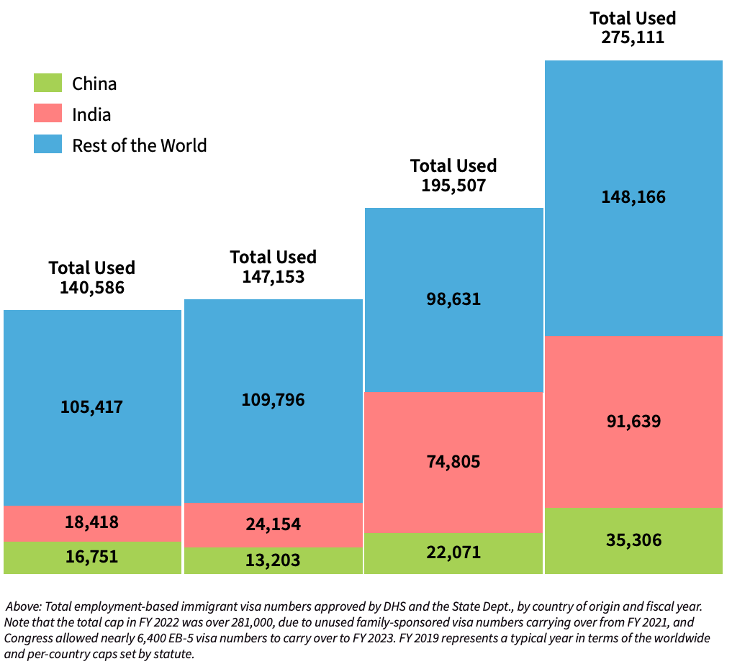 Reduced wait times for EADs:

USCIS has implemented operational improvements that increase efficiency, enhance system integrity, and reduce processing times. For immigrant visa applicants awaiting an EAD renewal, for example, the pending caseload has returned to a normal level.
Supporting services for U.S. employers and noncitizen workers
USCIS further supported U.S. employers and employment based immigration in FY 2022 by issuing policies to help U.S. businesses and noncitizen workers including:
---
Publishing a comprehensive menu of options for professionals in science, technology, engineering, and math (STEM) to work in the United States, along with detailed policy guidance for those seeking O-1 status for individuals of "extraordinary ability" or EB-2 green cards with a "national interest waiver" that allows self-petitioning by individuals of exceptional ability or holding advanced degrees.
Authorizing spouses of E and L visa holders to work immediately, without the requirement to apply and wait for an EAD, and applying the automatic extension of employment authorization for renewal EAD applications filed by these E and L spouses as well as certain H-4 spouses.
Implementing major reforms to the EB-5 immigrant investor program following bipartisan passage of the EB-5 Reform and Integrity Act.
Establishing a process for healthcare and childcare workers to make an expedited request for processing of initial EAD applications that have been pending for more than 90 days, or renewal applications that would expire within 30 days or have already expired.
Initiating the expansion of premium processing, while adhering to the congressional requirement that such services must not cause an increase in processing times for regular immigration benefit requests.
Issuing double the typical number of employment-based immigrant visas, as discussed above
In the coming months, USCIS promises to make the following commitments for FY 2023:
---
Implementing premium processing for all employer petitions for immigrant workers (Form I-140) and certain EAD applications for students and exchange visitors (Form I-765).
Removing the requirement to submit biometrics for applicants for change and extension of nonimmigrant status (Form I-539).
Simplifying several major forms, including the applications for EADs (Form I-765), adjustment of status (Form I-485), and naturalization (Form N-400)
Improving the asylum filing process, through launching e-filing for the Form I-589 Application for Asylum and for Withholding of Removal and transferring the paper Form I-589 filing location from USCIS Service Centers to the Lockbox to improve intake efficiency.
Providing refugee applicant notices and case status updates through myUSCIS, as part of an effort to create efficiencies in refugee processing.
Sharing notices and case status updates via myUSCIS for all Form I-131 humanitarian parole requests submitted to the USCIS Lockbox.
Streamlining the adjudications, and improving processing times, of Form I-131 Advance Parole applications.
Continuing use of the direct hiring authority in FY 2023 for officers working on protection cases. Adding more adjudicators and exploring policy and operational efficiencies in the VAWA/U/T portfolios to improve processing times.
Resuming quarterly VAWA/U/T stakeholder engagements and reinvigorating regular engagements on the local level.
Publishing several proposed and final rules in FY 2023 to further clarify eligibility requirements and promote efficient and consistent adjudications of certain humanitarian benefits.
Publishing revised forms and more clarifying policy guidance and providing additional training support for adjudicators at applicable Service Centers on domestic violence, sexual assault, and trafficking to help improve consistency in adjudications.
Leveraging technology solutions to increase the integrity and efficiency of TPS case processing
To read the full progress report, please click here.
---
Need immigration help? If you would like to schedule a consultation, please text 619-483-4549 or call 619-819-9204.
---
Helpful Links
---
JOIN OUR NEW FACEBOOK GROUP
Need more immigration updates? We have created a new facebook group to address the impact of the new executive order and other changing developments related to COVID-19. Follow us there.
For other COVID 19 related immigration updates please visit our Immigration and COVID-19 Resource Center here.