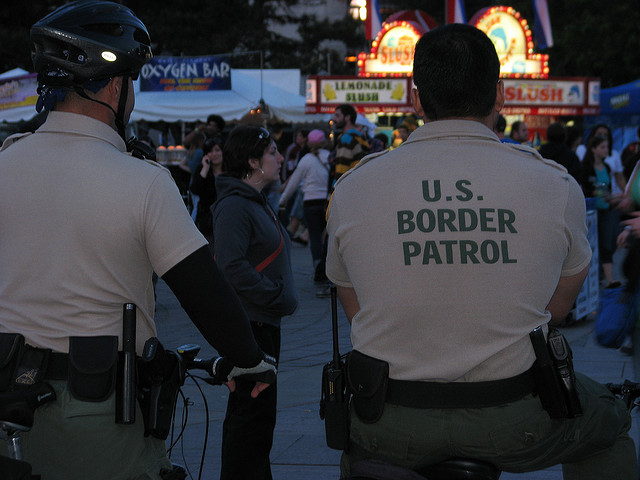 Following a recent surge in apprehensions of undocumented immigrants at the Southwest border, the Department of Homeland Security announced that, beginning January 1st Immigration and Customs Enforcement (ICE) engaged in a concerted nationwide crackdown, taking adults and some children into custody, who have evaded their orders for removal. In a recent press release, the Secretary of DHS, Jeh Johnson indicated that the crackdown occurred as a result of President Obama's November 2014 executive action on immigration, which put in place new priorities for removal, including the removal of convicted criminals, individuals posing a threat to national security, individuals apprehended at the border or who were found to have entered the United States unlawfully after January 1, 2014. In November 2014 President Obama had implemented these new priorities in an effort to secure the border. In the press release, Jeh Johnson added, "as I have said repeatedly, our borders are not open to illegal migration; if you come here illegally, we will send you back consistent with our laws and values…individuals who constitute enforcement priorities, including families and unaccompanied children will be removed."
According to the Department of Homeland Security, Central American migrants were removed and repatriated at an increasing rate since the summer of 2014. During this time, there was a surge in the number of families and unaccompanied children from Central America attempting to cross the southern border illegally. In response to this surge, DHS collaborated with the Mexican, Guatemalan, Honduran, and Salvadorian governments to decrease these numbers. According to Jeh Johnson the collaborative efforts were temporarily successfully. In 2015 the number of apprehensions by the U.S. Border Patrol decreased dramatically to 331, 333. Fiscal year 2015 experienced the lowest amount of apprehensions on the southern border since 1972. Recently, an increased rate of apprehensions resurfaced. This sudden spike resulted in the January 1st crackdown prompting ICE to action. As part of the crackdown, dozens of female agents and medical personnel were deployed to assist with the apprehension and removal process. According to DHS, in cases involving medical urgency or other reasons, ICE exercised prosecutorial discretion. As stated by DHS, enforcement operations will continue as needed in collaboration with state and local law enforcement.
On January 1, enforcement measures were undertaken for adults and children who:
were apprehended after May 1, 2014 having crossed the southern border illegally;
had been issued final orders of removal by an immigration court;
have exhausted appropriate legal remedies;
have no outstanding appeal, claim of asylum, or other appropriate humanitarian relief;
In response to the spike in illegal immigration along the southwest border, CBP has and will continue to deploy permanent border patrol agents to areas of necessity, augment operations in Southern Texas utilizing mobile response teams, redirect support from other border patrol sectors to areas of need, and increase surveillance capabilities.
Unaccompanied Children and Operation Coyote
DHS is working with the Department of Health and Human Services to care for unaccompanied children and oversee sponsor placement until their eventual transfer to their country of habitual residence. The deputy attorney general issued Operation Coyote in the summer of 2014 in an effort to crack down on the smuggling of migrants. DHS has formed Joint Task Forces to investigate and prosecute smugglers. DHS vows to cooperate with Mexico to contain and secure the border. DHS and DOS will continue to support the Merida Initiative.
For more information, please contact our office.