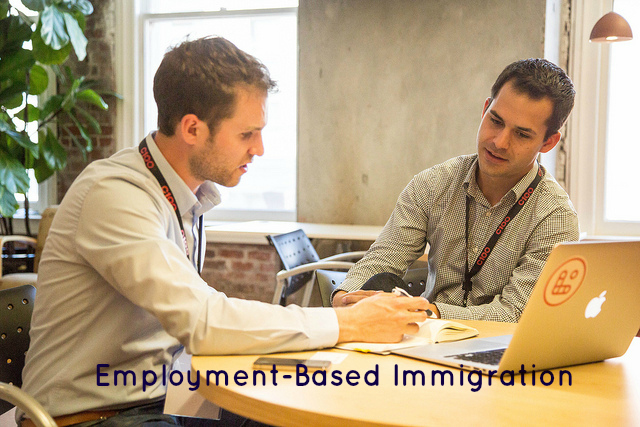 On Thursday, December 31, 2015 the Department of Homeland Security published a new proposed rule affecting highly skilled immigrant and non-immigrant workers alike. The proposed rule, introduced in last week's federal register, aims to improve the ability of American employers to hire and retain highly skilled workers waiting to receive their employment-based lawful permanent residence in the visa bulletin backlogs. Additionally, the proposed rule aims to enhance opportunities for such workers allowing them to be more easily promoted, to accept lateral positions with their current employers, change employers, and pursue other employment. While the proposed rule is not groundbreaking, it does address important challenges employers and their highly skilled workers have faced as the law stands today and makes recommendations for such relief. The proposed rule will be open for comment until February 29, 2016.
You may remember that on November 20, 2014 the President highlighted, as part of his executive actions on immigration, that the employment-based immigration system needed to be amended to modernize, improve, and clarify immigrant and nonimmigrant visa programs in order to create more jobs, foster innovation at home, retain a highly skilled workforce that would allow the United States to compete with other countries, and to stimulate the American economy overall.  In order to modernize the employment based immigration system, USCIS would be required to work with the Department of State to modernize and simplify the immigrant visa allocation process. Part of this process would require the Department of State to make reasoned projections of employment-based immigrant visa availability on the visa bulletin, that could be relied upon by employers and their highly skilled workers.
Presently, immigrant workers from India and China are experiencing extraordinary delays in the employment-based queue for permanent residence, while other highly skilled workers are forced to wait over a five-year period to receive company sponsorship and lawful permanent residence. Furthermore, such workers are forced to remain on temporary employment-sponsored visas in the United States while waiting for an immigrant visa to become available to them. This puts the immigrant worker in a predicament giving the employer the upper hand, while restricting the employee from seeking advancement and discouraging new employment, since this would require the employer to file a new petition and incur the expensive fees required for filing. Highly skilled works facing extortionate delays in the visa backlogs have experienced hindered employer/employee career advancement and job mobility. The new rules will provide limited relief in this area.
The Upsides
The proposal recommends that certain highly skilled workers (including E, H, L, and TN visa holders) be granted a sixty-day grace period once their employment ends allowing the worker to change employer, change their status to another visa type, or transition out of the United States. Presently, an employee's status ends upon termination of employment, with no grace period to transition to another employer or leave the country;
Additionally, certain nonimmigrant workers will be granted a ten-day grace period for the same reasons outlined above including E, L, and TN visa holders;
The proposal provides protections to whistleblower employees who have been terminated by their employers for reporting violations such as failure to provide the employee the prevailing wage, violations related to working conditions, etc. Such protection would again give the worker the opportunity to find a new employer or get their affairs in order under the circumstances;
The new rule introduces new provisions to codify administrative practice including the American Competitiveness in the 21st Century Act (AC21) and the American Competitiveness and Workforce Improvement Act (ACWIA) providing clarity to the adjudication process by: clearly defining employer exemptions from the H-1B visa cap expanding the definition of a related or affiliated non-profit entity to include nonprofit entities who are under a written contract with an institution of higher learning such as: universities, nonprofit research organizations, government research organizations, and their related or affiliated organizations;
Clarifying eligibility standards of H-1B employees seeking new employment once a new H-1B petition has been filed;
Allowing H-1B workers to extend their nonimmigrant status beyond the general six-year limitation so that they may live and work in the United States through the long employment-sponsored green card process;
Expanding permanent employment portability for the same or similar occupation;
New rule that would recognize for limited purposes the continuing validity of an immigrant visa petition in situations where the petition was withdrawn by the employer or where the employer's place of business was terminated, not as a result of fraud or misrepresentation;
Limited provision that would allow a 1-yr employment authorization to certain employment based classes immigrants based on compelling need. Presently employment authorization for spouses of highly skilled workers is limited and foreign born children may risk aging out due to visa bulletin delays;
To qualify for an EAD certain employment based immigrants will be required to:
Be in a valid qualifying nonimmigrant status
Prove that their immigrant visa petition has been approved
Prove that the priority date for their immigrant visa is within 1 year of becoming current
Demonstrate that compelling circumstances, that are out of their control, exist that warrant the approval of the EAD;
If the EAD is granted, the applicant will be required to relinquish any nonimmigrant status they hold. Future opportunities for change of status or adjustment of status may be eliminated because of this new provision.
The Downsides
The provision allowing for a 1-yr EAD is very limiting since the legal standard requires this avenue to be used only in compelling circumstances. Compelling circumstances have not been defined clearly in the new provisions;
The proposed rule would eliminate the current employment authorization provision which requires that employment authorization applications be adjudicated within 90 days;
It also eliminates the provision requiring an interim employment authorization card if the 90-day employment authorization adjudication period cannot be met;
The proposed rule would automatically extend employment authorization to certain employment based classes in their renewal applications for 180 days. This provision is limited to certain classes of employment authorization applicants including 15 categories, such as applicants for adjustment of status, asylees and refugees, TPS, etc. H-4 and DACA applicants are not included;
Fails to provide highly-skilled workers concrete assurances that their immigrant visa petitions will remain valid if they change employers or positions after the approval of the immigrant visa petition in question. The new proposal only provides priority date retention in limited circumstances which are beyond the employee's control such as the withdrawal of the petition by the employer or the termination of the employer's place of business in cases where fraud or misrepresentation is absent;
Fails to guarantee priority date retention if the worker changes employers or positions after the immigrant visa petition has been approved;
While the new proposal does not encompass everything we had hoped for, this is a step in the right direction. The addition of the grace periods, limited priority date retention, and clearly codified administrative guidance are significant amendments. Employment authorization as well as further priority date retention assurances will continue to remain an obstacle. For further developments please continue to check our blog.