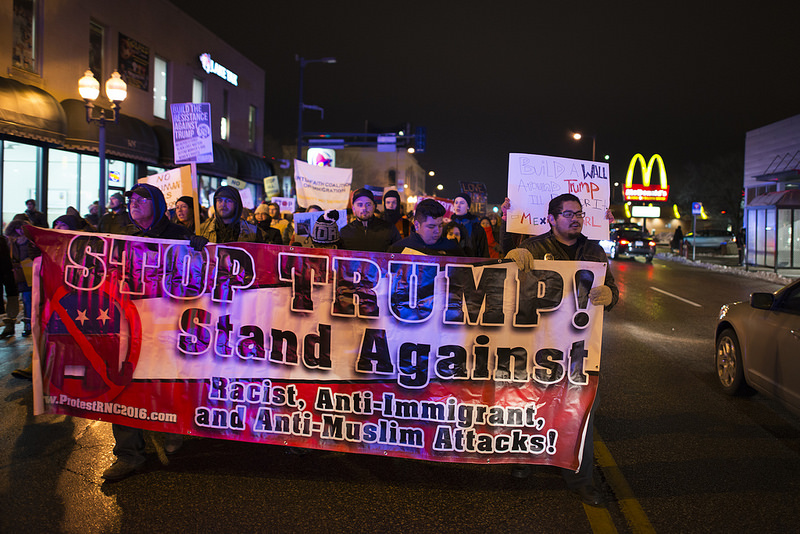 On the heels of being named "Person of the Year" by TIME magazine, a new interview with President-elect Donald J. Trump reveals new information regarding the former business tycoon's stance on illegal immigration. As we have previously reported, throughout his campaign the President-elect Donald Trump vowed to crackdown on illegal immigration, claiming that he would deport the 11 million undocumented immigrants residing in the United States unlawfully during. Among other things, Trump also campaigned on the platform that he would end the Deferred Action for Childhood Arrivals (DACA) program once and for all; a program which to this date has shielded hundreds of thousands of young undocumented persons from deportation, and provided them with temporary work authorization. The lives of these young undocumented immigrants have in large part been shaped by the passage of DACA, and the false sense of security it brought them. Today, their lives are in a very fragile state, with the uncertain future of what may happen to this program under a Trump administration, and the looming possibility of their removal from the United States, given that USCIS now possesses vital information regarding their identities and whereabouts. Ever since his election, Trump has desperately attempted to unite the nation. His administration has endeavored to pick up the broken pieces that were left behind by his polarizing campaign rhetoric. In recent months, we have seen Trump dramatically soften his stance on immigration in what may be described as futile efforts to unify the country.
In a recent interview with Time magazine, Trump was asked about what would happen to the lives of undocumented immigrants commonly referred to as "Dreamers" and what the future of the DACA program will hold under his administration. Donald Trump responded by stating that his administration is planning to provide future accommodation for the nearly 700,000 plus individuals that would be affected by the termination of the program. Trump emphatically stated, "We're going to work something out that's going to make people happy and proud," showing a sympathy for young migrants that was often absent during the campaign. "They got brought here at a very young age, they've worked here, they've gone to school here. Some were good students. Some have wonderful jobs. And they're in never-never land because they don't know what's going to happen."
Although Trump did not describe what exactly this "future accommodation" might look like, his choice of words indicates that while his administration is still focused on ending the DACA program, persons affected by the program will not be left in the dark. The Trump administration will likely formulate a plan to phase undocumented individuals out of the program, while replacing the program with something more in line with the values of the Trump administration. One thing is clear—the Deferred Action for Childhood Arrivals (DACA) program as we know it will no longer remain the same. Democrats forming part of the 115th Congress, to be in session during the first two years of Trump's presidency, will have a lot of work to do beginning January of next year to fight for the program or its equivalent. House Democrats have come together and asked President Obama to pardon Dreamers of any immigration violations before Trump takes office on January 20th of next year. As one of his first moves in office we can expect Donald Trump to begin removal proceedings to deport the estimated 2-3 million criminal undocumented immigrants living in the United States.
To read the complete Time magazine interview please click here.
For information about the visa services we offer please click here.