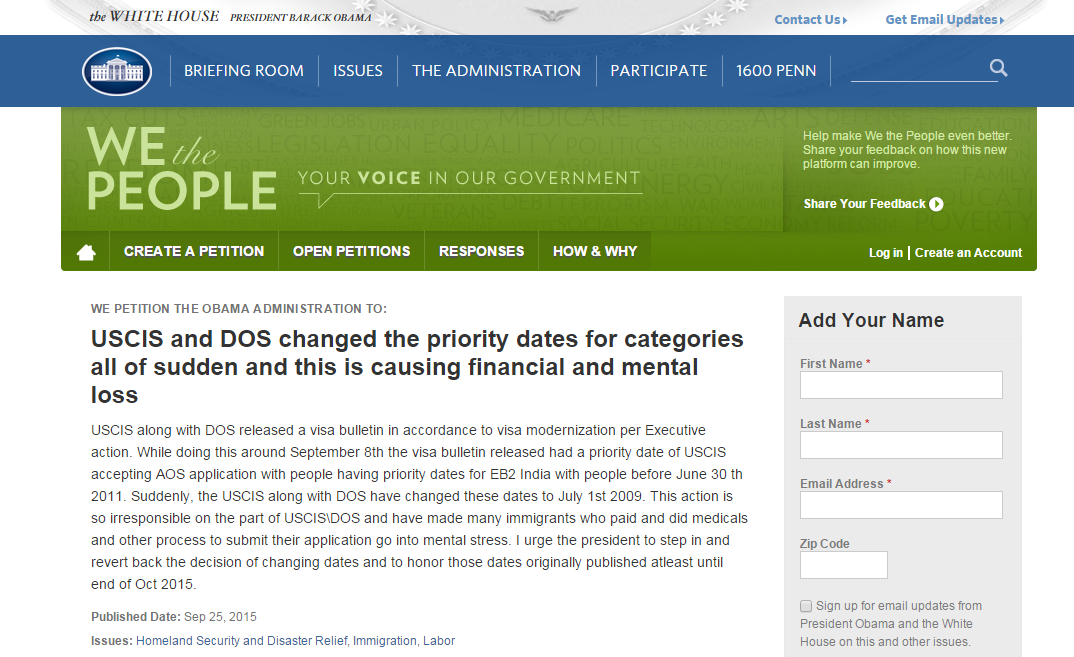 Last week, we reported to our readers that on September 25th the Department of State and USCIS re-issued the October Visa Bulletin and changed the date of filing chart drastically, rolling back the 'Dates of Filing' for heavily used visa categories, including employment based and family-sponsored petitions. The American Immigration Lawyers Association, along with policymakers, and immigration advocates, are urging Congress, the White House, USCIS, and Department of State to restore the initial dates of filing that were authorized and released on September 9th 2015 with the October Visa Bulletin.
If you would like to pressure the government to honor the initial dates of filing, released on September 9th, we invite you to sign the White House petition by clicking here. We must hold the government accountable for their actions by advocating for the restoration of the initial dates of filing. With the release of the October Visa Bulletin, the DOS introduced a dual chart system for the first time in history which included a new 'date of filing' chart. The new date of filing chart would have allowed thousands of foreign nationals to file their adjustment of status and employment authorization applications, before a visa became available to them. This action was made by the DOS in an effort to modernize and streamline our immigration system as part of President Obama's Executive Actions on Immigration announced on November 20th of last year. Due to the recent drastic changes that have been made to the date of filing chart, we encourage you to become involved by signing the petition or writing to your local Congressman/Congresswoman. Thousands of foreign workers and family members of foreign nationals have been impacted by the recent changes, given that the majority of applicants who would have been eligible to file for their green card applications and employment authorization cards, will no longer be able to do so. They must continue to wait until their priority date becomes current on the date of filing chart.
Only Congress can pass legislation in order to fix our outdated immigration system. Unfortunately important immigration concerns have been polarized and set aside by members of Congress. Much work needs to be done in Congress on many issues concerning expanded DACA, DAPA, the EB-5 Program, the quota system regulating H-1B visas, I-601 Waivers, Asylum, the Refugee Crisis, lifetime bars on false claims to U.S. Citizenship, and many more issues which demand their attention.
Will you be signing the petition? Need Assistance? Please call us to let us know how we can serve you. Your Immigration is Our Passion™