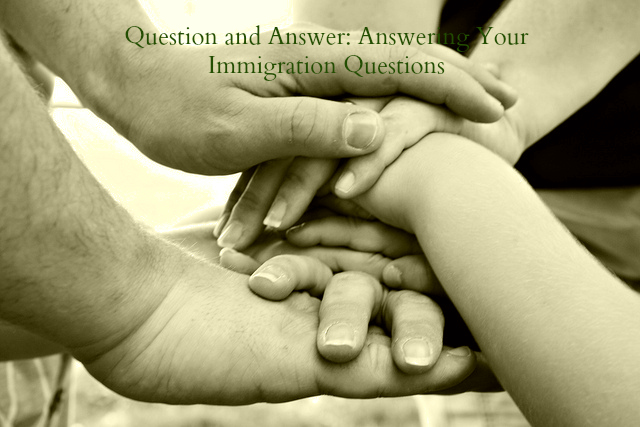 In this segment, we answer 5 of your most frequently asked questions received on our social media platforms and our website. Please remember that every case is different and every immigration journey is unique. You should not compare your situation to anyone else's. We hope that our answers will provide you with further guidance while you embark on your immigration journey. If you have any further questions, please call our office to schedule a free first time consultation. We serve international clients and domestic clients in all 50 states. We thank you for your continued trust in our law office. Do you want us to answer your question? Please submit your questions to us through our website, or our Facebook page. For more information on the services we offer please click here.
The Affidavit of Support: Using Assets to Supplement Income
Q: I will be petitioning my spouse for permanent residence soon and have a question about the affidavit of support. If I do not have the support of a joint sponsor and my income does not meet 125% of the federal poverty line, can I use my assets?
A: Yes, you may use your assets to supplement your income if your total income does not meet the income requirements of the 2016 HHS poverty guidelines according to your household size, as specified by the charts below. If your total income falls short, you may submit evidence to demonstrate the value of your assets, or the sponsored immigrant's assets, and/or the assets of a household member with their consent. Not only can the assets of the petitioner, immigrant, or household member be used to supplement any deficient income, but the assets of these persons can be combined to meet the necessary financial requirement. In order to use assets, the total value of the assets must equal at least five times the difference between your total household income amount and the current Federal Poverty Guidelines for your household size. An exception exists for U.S. citizens sponsoring a spouse or minor child. In this case, the total value of the assets must only be equal to at least three times the difference. Not all assets may be used to supplement income. Assets that can be converted to cash within one year without hardship or financial harm may only be used to supplement income. The owner of the asset must provide a detailed description of the asset (if the asset is property, an appraisal can be included or online listing from a reputable website showing the estimated value of the asset), proof of ownership of the asset (title, deed, etc.), and the basis for the owner's claim of its net cash value. If you are using your home as an asset, you must use the net value of your home (the appraised value minus the sum of all loans secured by a mortgage, trust deed, or other lien on the home). You may use the net value of an automobile only if you can show that you own more than one automobile, and at least one automobile is not included as an asset. Other examples of typical assets used to supplement income include property, 401k, IRA, mutual investment fund, etc.