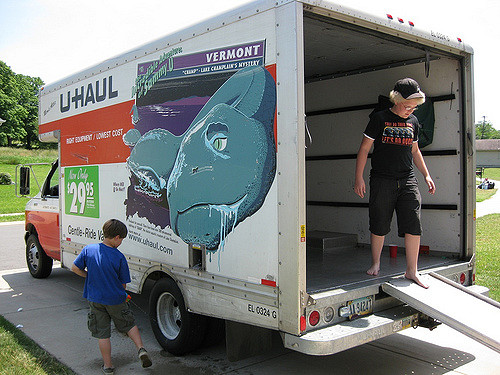 Did you know that if you fail to provide USCIS written notice of a change of address, within 10 days of moving to your new address, you may be convicted of a misdemeanor crime?  If you currently have a case pending with USCIS, and you fail to provide written notice of a change of address to USCIS, within 10 days of moving, you could face a fine of up to $200, imprisonment up to 30 days, or both if convicted. If you are an alien (non U.S. Citizen) you could also face removal from the United States for non-compliance (INA Section 266(b)).
It is extremely important for applicants to notify USCIS immediately upon moving to a new address. Filing a change of address with USCIS is easy and it's free. Applicants may change their address online by visiting the USCIS website and completing Form AR-11 online. In order to file a change of address online, you must know the Receipt Number (appearing on the Notice of Action) associated with your application, if your application is currently pending with USCIS. A Receipt Number is also known as the case number, identifying the petition submitted. The Receipt Number typically begins with three letters and is followed by ten digits.
The first three letters of the Receipt Number indicate the USCIS service center which is processing the petition, as follows:
– EAC – Vermont Service Center;
– WAC – California Service Center;
– LIN – Nebraska Service Center; and
– SRC – Texas Service Center
If you have filed more than one petition with USCIS (as in cases of adjustment of status for spouses of U.S. Citizens) you must provide the receipt number of each petition you have filed, when submitting the change of address online. If you do not have your receipt notice or have lost it, you should contact USCIS National Customer Service Center by telephone for assistance:
Our number is: 1 (800) 375-5283
Our TTY number is: 1 (800) 767-1833
If you are outside the United States and have filed an application or petition with a USCIS Service Center, you can call 212-620-3418 to check the status of your case.
If your application has been approved, but you no longer have the receipt number for your application, you can file Form I-824 to receive a duplicate notice. The filing fee of Form I-824 is $405.
If you do not have an application currently pending with USCIS and you have moved, you must still submit a change of address online. If you do not have an application currently in process, you are not required to enter a receipt number when you submit your change of address online.
Once you have submitted your change of address online, you must ensure that you have proof that you filed the change of address online. If you have properly completed the change of address you will be able to save a copy of the Form AR-11 which will appear at the end of the session.
Why is submitting a change of address so important?
Failure to comply with the reporting requirement can cause serious consequences for your immigration status. Many of our clients do not understand that compliance with the reporting requirement is a condition of their stay in the United States. USCIS explicitly states on their website that "failure to comply could jeopardize [an alien's] ability to obtain a future visa or other immigration benefit" in the future. Non-citizens must keep the USCIS informed of their current address, even if they do not currently have a case pending with USCIS. Matters become much more complicated for aliens who have filed an application or petition to receive immigration benefits with USCIS.
As you may be aware, the primary form of contact between USCIS and the applicant is by mail. Therefore, if USCIS does not have your correct address on file, they will not be able to notify you of any decision on your application, petition, or request. For example, if USCIS needs more information regarding your case, they may send you a Request for Evidence (RFE) by mail. Requests for Evidence must be taken seriously. Applicants are typically given 87 days to respond to a Request for Evidence. Failure to respond to an RFE within the time frame specified on the notice, may result in the denial of your application. If you did not update your address with USCIS and you fail to receive the RFE for your case, you will be held responsible should your application receives an adverse decision. Failing to update your address wastes your valuable time and money. In this situation, you would need to refile your application with USCIS and pay all of the immigration filing fees again.
If you have proof that you provided notice to USCIS of your change of address (Form AR-11), but USCIS failed to update your address in their system and closed your case, you might be able to salvage your application by filing a I-290B Motion to Reopen. The filing fee for the I-290B is currently $630.
Case Study
Consider this story of a client. Emma filed an adjustment of status application for permanent residency with her husband Mike, as the spouse of a U.S. Citizen. Emma and Mike began having problems in their relationship early in the marriage. Mike was verbally abuse to Emma on many occasions, and eventually it became physical. Emma grew concerned because she was raising two small children from a previous marriage, and she knew her children were being negatively affected by the situation. At the same time Emma feared leaving the relationship, because that would mean she would have no legal status in the United States. The stress and anguish became too much for Emma to handle. She took her children and separated from Mike. She was later granted a temporary restraining order to keep Mike away from her and the children.
The day came when Emma and Mike were scheduled to have her green card interview and of course he did not show up. Emma attended the interview and told the immigration officer the difficulties she was having in her marriage. She explained that she was living in fear and moving from place to place so that Mike would not be able to locate her and her children. The officer advised her to apply for permanent residence under the Violence Against Women Act (VAWA) to obtain permanent residency as the battered spouse of a U.S. Citizen. Emma took his advice and filed the I-360 petition. At this point Emma had moved from at least three different places since leaving Mike. Emma had filed the AR-11 change of address online, but USCIS could not keep an accurate record of her current residence, since Emma had been moving from place to place so often.
Emma came to our office because she was no longer receiving any notices from USCIS for her I-360 application. She provided us proof that she submitted several changes of address with USCIS and had contacted USCIS by phone and in person to notify them of her current address. Despite all these efforts we discovered that Emma's application had been closed by USCIS.
We reached out to the last office that had jurisdiction over her application and discovered that USCIS had sent Emma a Request for Evidence, which she had never received. When USCIS failed to receive the response to the RFE, they closed her application. Our office was able to successfully file a Motion to Reopen on her behalf. In response, USCIS opened her I-360 VAWA application and forwarded our office the Request for Evidence that had been previously sent. The Motion to Reopen was approved thanks to the proof she provided in support of her claims. Not only that, Emma's VAWA application was approved and she is now a Legal Permanent Resident of the United States. This case is the perfect example of why you should always make every attempt to ensure that USCIS has your current address on file. If too much time has elapsed and you have not received a Notice of Action for your application, you should contact USCIS immediately to verify that they have the correct address on file.
Do not put yourself in an unnecessary situation. If you would like more information about how to file a change of address please contact us.