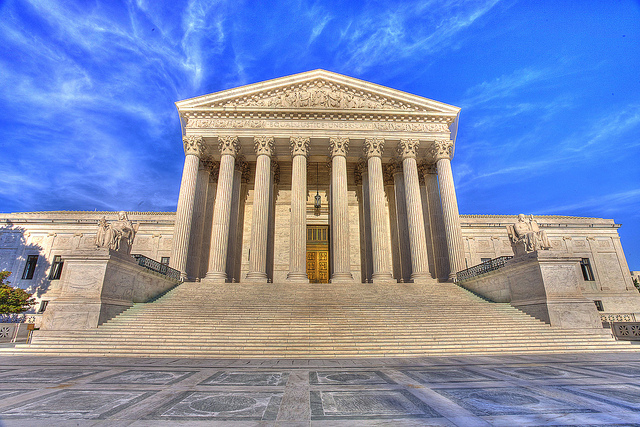 Today the Supreme Court of the United States dealt a strong blow to President Barack Obama's executive actions on immigration issuing a single one-line decision on the ruling "the judgment of the lower court is affirmed by an equally divided court." Nearly two years ago, President Obama announced a series of executive actions on immigration after the Republican controlled House of Representatives refused to tackle the issue of comprehensive immigration reform. As part of his executive actions on immigration, President Obama announced the expansion of the Deferred Action for Childhood Arrivals (DACA) program, and introduced a new program known as Deferred Action for Parents of Americans and Lawful Permanent Residents, (DAPA) designed to shield nearly five million undocumented immigrants from deportation. Following these initiatives, USCIS announced that applications for expanded DACA and the new DAPA program would begin to be accepted on February 18, 2015.
The DACA program would have expanded the population eligible for the Deferred Action for Childhood Arrivals (DACA) program to people of any current age who entered the United States before the age of 16 and lived in the United States continuously since January 1, 2010, and extending the period of DACA and work authorization from two years to three years. The new DAPA program would have granted parents of U.S. Citizens and lawful permanent residents the opportunity to request deferred action and employment authorization for a three year period, on the condition that they have lived in the United States continuously since January 1, 2010 and pass required background checks.
On February 16, 2015 just two days before the programs were scheduled to go into effect, Texas along with 25 other states, filed a temporary court injunction ultimately suspending both programs from going into effect. This action prompted the Obama administration to intervene. For months, the federal government and the State of Texas battled one another in federal court. The court ultimately determined that Texas and at least 25 other status had sufficient 'standing' to challenge these programs. In response, the federal government filed an emergency motion to stay, however the motion was eventually denied by the court. This led the government to file a writ of certiorari before the Supreme Court. The fate of Obama's executive actions grew all the more uncertain with the sudden death of conservative Supreme Court Justice Antonin Scalia on February 13th.  President Obama made desperate attempts to fill the vacated seat by nominating Merrick Garland to the Supreme Court, the Chief Judge of the United States Court of Appeals for the District of Columbia. Efforts to fill the seat were unsuccessful as Republicans vowed to keep Garland from sitting on the bench. Thus, Scalia's death left behind an eight-person bench, and with no one to fill his seat, the growing possibility of a deadlock within the Supreme Court.