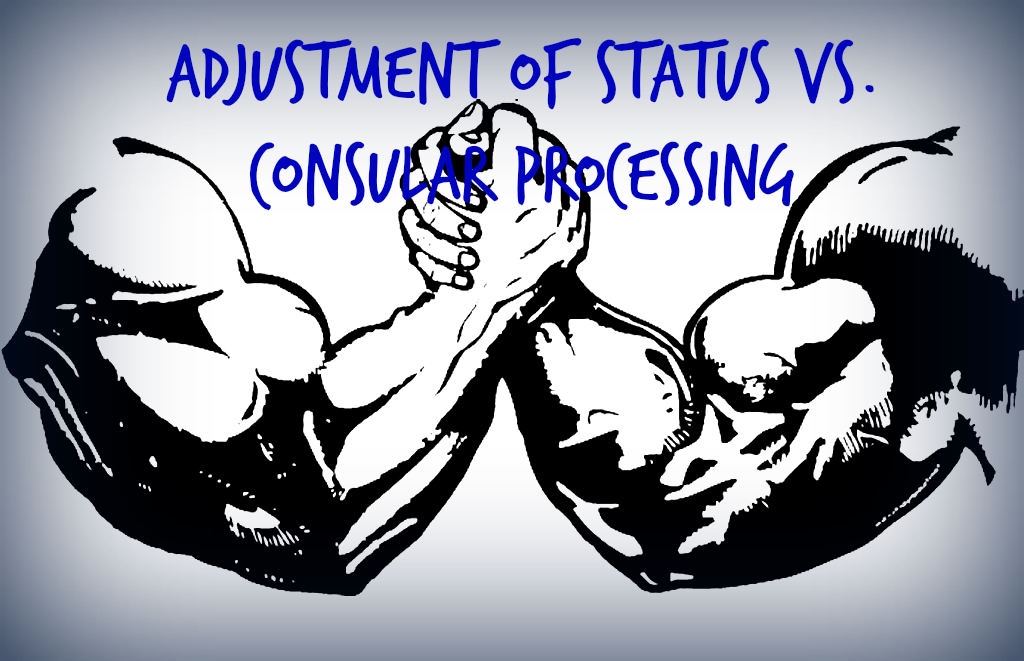 Our clients often ask us what the difference is between adjusting their status within the United States versus applying for a green card at a United States consulate abroad. In order to adjust your status to permanent resident within the United States by filing Form I-485, you and your spouse must be living inside of the United States at the time of filing. The intending immigrant must also have entered the United States legally in order to adjust status within the United States, although there are few exceptions (as is the case of individuals who qualify for 245i). This means that generally, in order to qualify for adjustment of status, you must have been inspected by a U.S. Customs official at a United States port of entry. As part of the Adjustment of status process, the green card applicant must be able to prove that they were inspected upon entry by showing their I-94 arrival/departure record. The I-94 is a small white paper that is placed in the passport containing a stamp of admission with the date of entry, place of entry, the person's name, I-94 number, and other important details.
If you did not receive a paper I-94 in your passport, you may obtain your I-94 electronically by visiting the DHS website.
Consular processing on the other hand is an option that is typically utilized for spouses of US Citizens residing abroad and/or foreign spouses who have never visited the United States, do not have a United States visa, or cannot obtain one, because they are already married to a US Citizen. Foreign spouses who are obligated to travel frequently such as businesspersons may also prefer to obtain an immigrant visa through 'consular processing' because this process does not prohibit international travel. Adjustment of status applicants on the other hand are prohibited from traveling internationally once the I-485 green card application has been filed, unless they have received travel permission from USCIS known as an advance parole document. If the applicant travels without this advance parole document, the I-485 application will be considered abandoned.
Advance Parole for Adjustment of Status Applicants
In order to receive this advance parole document, the applicant must file Form, I-131 Application for Travel Document at the same time as Form, I-485 in order to return to the United States after temporary foreign travel. If the applicant wishes to apply for a work permit they must also file Form, I-765 Application for Employment Authorization. There is no additional fee for the I-131,765 applications if the applicant has a pending I-485 application with USCIS. The I-131,765 applications take approximately 90 days to process from date of filing and culminate in a travel/work permit combo card known as the EAD (Employment Authorization Document). This document allows the applicant to work, travel, obtain a SSN number, and driver's license. Consular Processing applicants do not receive any travel or employment authorization and cannot obtain a driver's license or SSN until they have received their green card once they enter the United States with an immigrant visa.
Adjustment of Status Benefits
There are many benefits that come with adjusting your status within the United States however to qualify you and your spouse must be living in the United States and you must have been inspected upon entry to the United States (with few exceptions), otherwise you are not eligible to apply for adjustment of status within the United States. If you have committed any immigration violations or have a serious criminal history, you must consult an attorney.