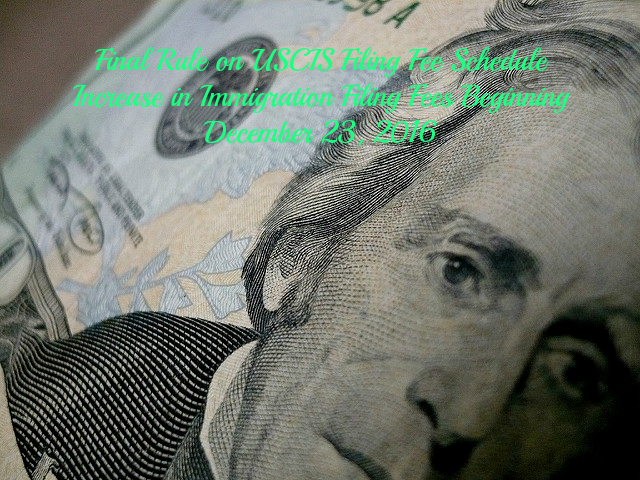 Today, October 24, 2016 the Department of Homeland Security published the final rule increasing fees for certain immigration and naturalization petitions processed by U.S. Citizenship and Immigration Services (USCIS). Overall the Department of Homeland Security increased filing fees for certain petitions by an average of 21 percent. The new fees will be enforced by USCIS beginning December 23, 2016. The fee schedule has been adjusted following the agency's decision to conduct a comprehensive review of filing fees for fiscal year 2016/2017. USCIS determined that an adjustment in the filing fees would be necessary in order for USCIS to recover costs for services expended and maintain adequate service. The proposed fee schedule was first published on May 4, 2016. The final rule clarifies that all persons applying for immigration benefits may be required to appear for biometrics services or an interview, and thus must pay the biometrics services fee accordingly.
EB-5 Investor Visa Program
The EB-5 Immigrant Investor Visa Program will be most heavily impacted by the new fee schedule. The new filing fee for Form I-924, Application for Regional Center under the Immigrant Investor Pilot Program, will increase by a rate of 186% requiring Regional Centers seeking designation under the program, to pay a filing fee of $17,795 instead of the current rate of $6,230. Regional Centers will be required to pay a $3,035 annual fee to certify their continued eligibility for the designation.
The filing fee for the I-526 Immigrant Petition by Alien Entrepreneur, an application associated with the EB-5 visa program, will increase to $3,675, a 145% increase up from the current rate of $1,500. The filing fee for an investor's petition to remove conditions on residence remains unchanged.
Naturalization
USCIS has established a three-tiered fee schedule for naturalization applicants filing Form N-400 Application for Naturalization. First, the fee schedule includes a standard filing fee for most applicants, from a rate of $595 to $640. Second, DHS has established a reduced fee of $320 for naturalization applicants whose household income is greater than 150% but less than 200% of the Federal Poverty Guidelines. Third, there will be no filing fee for naturalization applicants who are members of the military, applicants with approved fee waivers, and others who may qualify for a fee waiver according to sections 328 or 329 of the Immigration and nationality Act (INA).