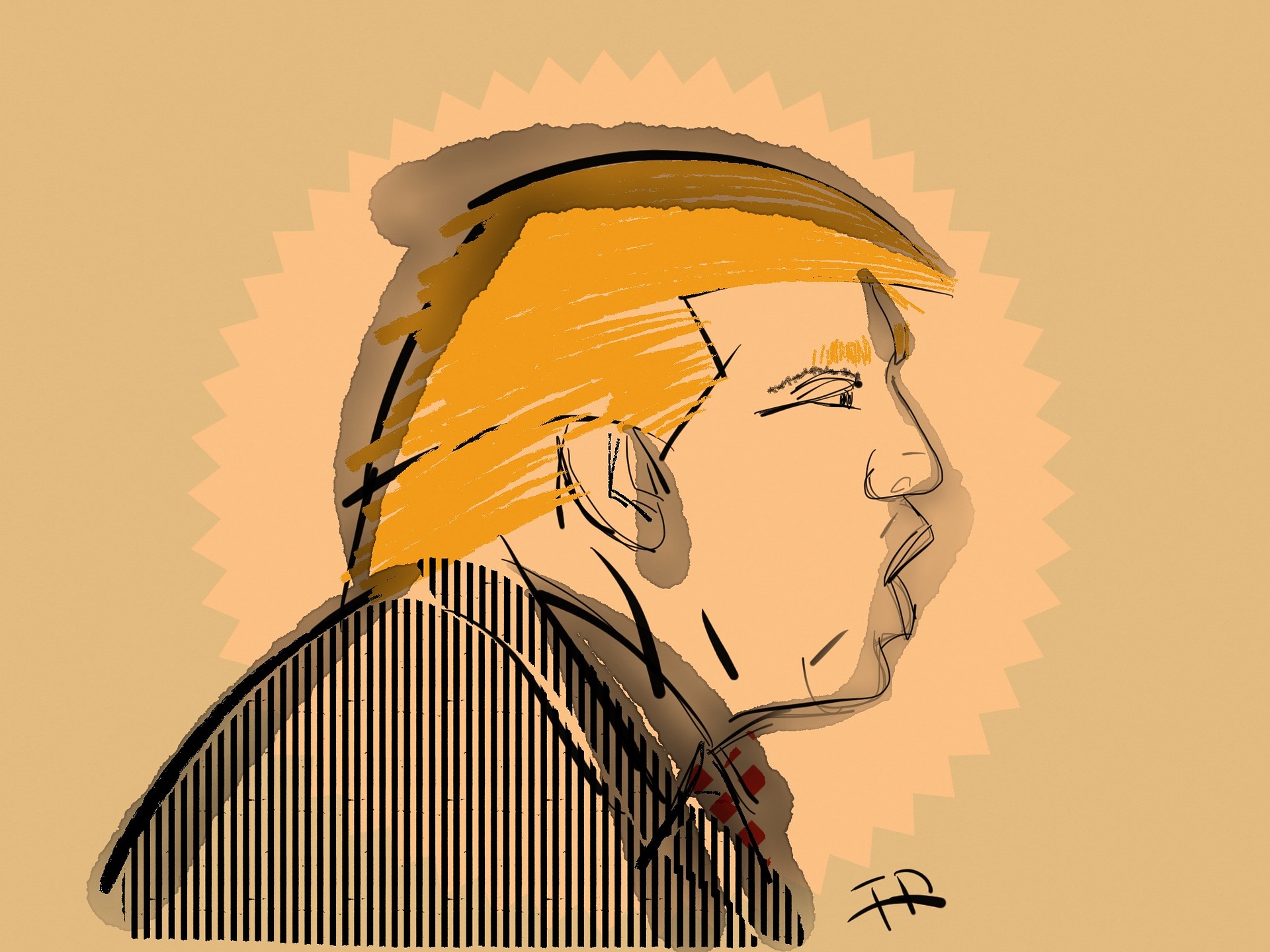 As we approach the end of the year, in this blog post, we look back at the major policy changes implemented by the Trump administration in the year 2019 that have had a profound impact on the way our immigration system functions today.
JANUARY 
Government Shutdown Woes
The start of 2019 began on a very somber note. From December 22, 2018 to January 25, 2019 Americans experienced the longest government shutdown in American history (lasting a period fo 35 days) largely due to political differences between the Republican and Democratic parties on the issue of government funding to build a border wall along the U.S. Mexico border.
The government shutdown created a massive backlog for non-detained persons expecting to attend hearings in immigration court. Because of limited availability of federal workers, non-detained persons experienced postponements and were required to wait an indeterminate amount of time for those hearings to be re-scheduled.
To sway public opinion, 17 days into the government shutdown, the President delivered his first primetime address from the Oval office where he called on Democrats to pass a spending bill that would provide $5.7 billion in funding for border security, including the President's border wall.
With no agreement in sight, on January 19, 2019, the President sought to appease Democrats by offering them a compromise solution. In exchange for funding his border wall and border security, the President announced a plan that would extend temporary protected status of TPS recipients for a three-year period and provide legislative relief to DACA recipients for a three-year period. The President's proposal however did not provide a pathway to residency for Dreamers, and was quickly rejected by Democrats.
On January 25, 2019, with still no solution and pressure mounting, the President relented and passed a temporary bill reopening the government until February 15, 2019.
Meanwhile, immigration courts across the country were forced to postpone hundreds of immigration hearings, with Minnesota, Pennsylvania, and Kentucky being the most deeply affected by the shutdown.
Changes to the H1B Visa Program
On January 30, 2019, the Department of Homeland Security announced proposed changes to the H-1B visa program including a mandatory electronic registration requirement for H1B petitioners filing cap-subject petitions beginning fiscal year 2020, and a reversal in the selection process for cap-subject petitions. The government outlined that it would first select H-1B registrations submitted on behalf of all H-1B beneficiaries (including regular cap and advanced degree exemption) and then if necessary select the remaining number of petitions from registrations filed for the advanced degree exemption. Moreover, only those registrations selected during fiscal year 2020 and on, would be eligible to file a paper H1B cap petition.
FEBRUARY
Rescission of H-4 Employment Authorization
The following month, the Department of Homeland Security published a notice of proposed rule-making in the federal register seeking to rescind employment authorization for certain H-4 dependent spouses of H-1B workers seeking permanent residence. To date, the Department of Homeland Security has not published a proposal in the federal register and has said in court that publication of a proposed regulation to end the H-4 employment authorization program will not be expected until Spring 2020.
MARCH 
Ramos v. Nielsen Restores TPS Protections for TPS beneficiaries for El Salvador, Haiti, Nicaragua, and Sudan
During the month of March 2019, in response to a court ruling granting Plaintiffs a preliminary injunction preventing the Trump administration from terminating the Temporary Protected Status designation for El Salvador, Haiti, Nicaragua, and Sudan, the Department of Homeland Security and USCIS issued a formal notice announcing the automatic extension of Temporary Protected Status for these beneficiaries, until January 2, 2020.
Congress introduces Dream and Promise Act
March was also a busy month for Congress in terms of legislative proposals. Efforts were made to pass a legislative bill that would shield Dreamers from deportation, and grant them the opportunity to become permanent residents. The first such bill was called "The Dream and Promise Act" and sought to cancel the removal of and grant conditional permanent residence to Dreamers who would meet certain physical presence, academic, and criminal requirements. Unfortunately, the bill died quickly.
APRIL 
Israel Added to E-2 Treaty Investor Program
April 2019 was an exciting month for Israeli nationals. During this month, the U.S. Embassy in Israel announced the addition of Israel to the list of countries eligible to apply for an E-2 Treaty Trade Investor Visa. Israeli nationals were allowed to participate in the program beginning May 1, 2020.
Presidential Memorandum to Reduce Visa Overstays
That same month, the Trump administration issued an important memorandum to be implemented by Embassies and Consulates worldwide, to eliminate the high rate of nonimmigrant overstays for nationals of certain countries. In his memorandum, the President called on the Secretary of Homeland Security to create a plan to stop B-1/B-2 visa overstays with respect to "countries of interest," identified by the Secretary of State. The President directed DHS to suspend, limit entry, target suspension of visa issuance, or limit the duration of admission to individuals from these countries. The President also directed DHS to take immediate action to reduce overstays for all classes of nonimmigrant visas.
In 2018, the following countries were listed as countries having high rates of overstays and deemed "countries of interest:" Afghanistan, Angola, Bhutan, Burundi, Cabo Verde, Chad, Conga, Djibouti, Eritrea, Georgia, Liberia, Mauritania, Nigeria, Palau, Somalia, Sudan, Syria, and Yemen.
Marijuana Violations Constitute Bar to Good Moral Character
Toward the end of April 2019, USCIS issued policy guidance clarifying that the consumption of marijuana remains a violation of federally controlled substance law, and any marijuana violations are a conditional bar to establishing good moral character for naturalization purposes, even where that conduct would not be found to be an offense under state law.
MAY
Presidential Memorandum Targeting Asylum Fraud
During the month of May 2019, the President signed a Presidential Memorandum targeting fraud in the asylum application process. The President directed the Secretary of Homeland Security to take measures to enhance the security of the asylum system and prevent fraud by July 28, 2019. Part of these measures included providing for the removal of aliens who have received positive credible fear determinations, immediately revoking employment authorization of aliens denied asylum or aliens subject to a final order of removal, among other measures.
USCIS Memorandum Indicates Upcoming Changes to Naturalization Exam in 2020
On May 3, 2019, a memorandum was released by USCIS Director Francis Cissna indicating the possibility of new changes being enacted for the naturalization examination beginning December 2020 to early 2021. While the details of these changes have not been provided, USCIS is sending a clear signal that the agency is tightening the naturalization application process, and expects to implement these changes in the near future.
Presidential Memorandum Requiring Financial Sponsor Accountability
In addition, in the month of May the President signed a Memorandum to enforce financial sponsor responsibilities for those who have signed Form I-864 Affidavit of Support, holding sponsors accountable for reimbursement of funds, where a sponsored alien has requested certain types of public benefits from a government agency, when they were not entitled to receive such benefits. The President also called on government agencies to update or issue procedures or regulations to ensure compliance with the law and prevent aliens from receiving public benefits, and where they have received them, to seek reimbursement from financial sponsors.
JUNE
Proposed Rule to Collect Social Media Information from Visa Applicants
During the month of June 2019, the Trump administration began targeting visa applicants at U.S. consulates or embassies abroad requiring applicants to disclose social media information on the online nonimmigrant and immigrant visa applications (DS-160 and DS-260) as part of the non-immigrant and immigrant visa application process. Consular officers are permitted to use such information during visa adjudication to determine whether the individual is eligible for the visa requested, and to determine the applicant's true intentions in traveling to the United States. Information regarding the applicant's social media presence continues to be required on the DS-160 and DS-260 applications.
Policy to reduce AOS and Naturalization Processing Times
That same month, USCIS adopted a strategy to reduce processing times for naturalization and adjustment of status applicants waiting long periods of time for an interview by shifting the caseload among different USCIS offices nationwide. As part of this policy change, USCIS may in their discretion schedule applicants to appear for an interview at a field office outside their normal jurisdiction.
JULY
Interim Rule Limiting Asylum Eligibility
In July, the Trump administration yet again targeted the asylum population by placing additional restrictions on the asylum process and limiting the eligibility of individuals applying for asylum.
As part of these efforts, the Departments of Justice and Homeland Security revised 8 C.F.R. § 208.13(c) and 8 C.F.R. § 1208.13(c) adding a new bar of eligibility for asylum for any individual who entered or attempted to enter the U.S. across the southern border, without having applied for protection in a third country outside their country of citizenship, nationality, or last lawful habitual residence. This law applies to aliens entering or arriving in the U.S. on or after July 16, 2019, and would require asylum officers and immigration judges to apply this new bar on asylum eligibility when administering the credible-fear screening process applicable to stowaways and aliens who are subject to expedited removal under section 235(b)(1) of the Immigration and Nationality Act. The law also limits eligibility of individuals who have not applied for asylum in a third country, prior to entering or attempting to enter the United States.
USCIS Announced Changes to the EB-5 Immigrant Investor Program
On July 23, 2019, USCIS announced changes to the EB-5 Immigrant Investor Program, effective November 21, 2019. The changes raised the standard minimum investment amount in a targeted employment area from $500,000 to $900,000, and non-TEA standard minimum investment from $1 million to $1.8 million, as well as clarified USCIS procedures for removing conditions on permanent residence, and introduced changes allowing EB-5 petitioners to keep their priority dates. These changes are significant because the minimum investment amount was raised significantly, discouraging some investors from participating in the program after November 21, 2019.
AUGUST
Final Rule "Inadmissibility on Public Charge Grounds" Blocked by Federal Judge
During the month of August 2019, USCIS introduced perhaps the most contentious policy change of the year by expanding the list of public benefits that could make an alien ineligible to obtain permanent residence and/or an immigrant visa. On August 19, 2019, DHS published the final rule, "Inadmissibility on Public Charge Grounds," in the Federal Register, seeking to expand the types of public benefits that would bar an individual from receiving permanent residence based on a public charge determination. These benefits included: SNAP, cash benefits for income maintenance, section 8 housing assistance, section 8 project-based rental assistance, and certain other forms of subsidized housing. The rule sought to make a public charge determination where an alien received one or more of these public benefits for more than 12 months in the aggregate, within any 36-month period. The rule was to be enforced on applications or petitions postmarked on or after October 15, 2019. Several days before the rule was to go into effect however, three federal judges blocked the implementation of this rule nationwide pending several lawsuits brought into the court system. Therefore, the public charge rule may not be enforced until a final decision is reached on the merits in these lawsuits.
Changes to Flores v. Reno, Detention of Children
On August 22, 2019, the President announced a proposal changing the settlement agreement reached in Flores v. Reno, which limited the amount of time and conditions that the government could detain children. Instead, the Trump administration removed the timing prohibition, allowing undocumented families traveling with children to be detained for an indefinite period of time.
Expedited Removal of Guatemalans
Later that month, Immigration and Customs Enforcement (ICE) formally announced enforcement operations to expeditiously remove Guatemalan adults and families arriving at the U.S./Mexico border. The agency revealed that since mid-July it had been expeditiously removing Guatemalan adults and family units from the U.S. that had no basis to remain in the country. ICE revealed that since the beginning of 2019, the agency had removed at least 30 family unit members per week and repatriated them to Guatemala.
Policy Terminating Automatic Citizenship of Certain Children of US Service Members Stationed Overseas
At the end of the month of August, USCIS issued a new policy affecting certain children of U.S. service members and government employees stationed overseas. Under the new policy, beginning October 2019 the following categories of children of U.S. government employees and U.S. armed forces members, employed or stationed outside the U.S., would not be entitled to automatic citizenship. Instead, parents of these children need to apply for their citizenship by filing Form N-600K Application for Citizenship and Issuance of Certificate under Section 322 before the child's 18th birthday:
children of non-U.S. citizens adopted by U.S. citizen employees or service members;
children of non-U.S. citizen parents who become citizens after the child's birth; and
children of U.S. citizens who do not meet residency requirements to transmit citizenship to their children at birth.
The policy does not affect children who are citizens at birth or who acquired citizenship before October 29, 2019.
SEPTEMBER
Proposed Rule Establishing $10 H-1B Registration Fee for H1B Petitioners
During the month of September, the government published a series of new rules in the Federal Register introducing several policy changes. The first of these requires petitioners filing H-1B cap-subject petitions to pay a $10 registration fee for each petition submitted to USCIS for the H-1B cap selection process beginning with the H-1B fiscal year 2021 cap season.
Proposed Rule "Protect the Nation from Foreign Terrorist Entry" seeks social media information from visa applicants
In addition, on September 9, 2019, the government published a second proposed rule in the Federal Register called "Protect the Nation from Foreign Terrorist Entry into the United States," which expands social media information that can be collected as part of the non-immigrant and immigrant visa application process.   Per this rule, DHS may collect social media usernames used by the applicant during the past five years across several social media platforms. The final version of this rule has not yet been submitted for publication.
Proposed Rule De-Prioritizing Asylum EAD Adjudication
The third proposed rule, "Removal of 30-Day Processing Provision for Asylum Applicant-Related Form I-765 Employment Authorization Applications," was published on September 9, 2019 and did two things:
remove a regulatory provision requiring USCIS to grant or deny an initial employment authorization application within 30 days from the date an asylum applicant files the initial Form I-765, Application for Employment Authorization (EAD)
remove a provision requiring an asylum applicant to submit an I-765 Renewal of Employment Authorization to USCIS 90 days prior to the expiration of the employment authorization document's validity
According to USCIS, placing a 30-day deadline on USCIS response times placed too much of a burden on the agency and "diverted" resources from the agency away from priority applications such as those of high skilled employees and those of adjustment of status applicants.
OCTOBER
Interim Final Rule Gives Consular Officers Wide Discretion to Deny Visas on Public Charge Grounds
During the month of October several important changes were brought about by the Trump administration. On October 21, 2019 the Trump administration published the Interim Final Rule, "Visas: Ineligibility Based on Public Charge Grounds," giving consular officers wide discretion to deny immigrant and nonimmigrant visas to applicants on public charge grounds based on a variety of facts weighing positively or negatively on an applicant. Consular officers are now given the power to determine whether a visa applicant is likely to become a public charge based on their age, health, educational background, and financial status. Consular officers may also exercise increased discretion to scrutinize certain applications more closely than others based on the visa classification sought by the applicant, as well as duration of stay.
Implementation of DS-5540 Public Charge Questionnaire for Visa Applicants
Several days later, the Department of Status issued a 60-day notice in the Federal Register alerting visa applicants of the agency's plan to require immigrant visa applicants to complete Form DS-5540, a Public Charge Questionnaire to determine whether a visa applicant is likely to become a public charge.
Through the DS–5540, the Department would collect information regarding a visa applicants' ability to financially support themselves following entry into the United States.
DS-5540 questions primarily pertain to the applicant's health, family status, assets, resources, financial status, education, skills, health insurance coverage, and tax history. The DS–5540 would also require applicants to provide information on whether they have received certain specified public benefits from a U.S. Federal, state, local or tribal government entity on or after October 15, 2019.
Consular officers can use this questionnaire to assess whether an applicant is likely to become a public charge and thus deny their visa.
This rule is still subject to public comment and has not yet been finalized.
Presidential Proclamation denying entry to anyone who would be a financial burden on the US healthcare system blocked by Federal Judge
Lastly, on October 28, 2019, the President signed a Presidential Proclamation that was set to be effective November 3, 2019, suspending the entry of any immigrant who would "financially burden the United States healthcare system."
According to the Proclamation, a person seeking to immigrate to the United States via the Consulate, would be found to be a financial burden on the U.S. healthcare system, unless they could prove either of the following:
They are covered by approved health insurance, within 30 days of their entry to the United States, or
They have the financial resources to pay for reasonably foreseeable medical costs.
Fortunately, one day before the Proclamation was to go into effect, in response to a lawsuit, a federal judge issued a preliminary injunction blocking the Proclamation from going forward on a nationwide basis until a final decision is reached in the lawsuit.
NOVEMBER
Proposed Rule Increasing Immigration Fees for Certain USCIS Petitions
During the month of November, the government published a proposed rule in the Federal Register increasing immigration fees for certain petitions including Form I-131, 1-129F, I-129, I-140, I-212, I-290B, I-360, I-485, I-539, I-601, among other petitions. These fee increases will not go into effect until well into Fiscal Year 2020.
DECEMBER
Final Rule Increasing Premium Processing Fee Beginning December 2, 2019
In early December, USCIS announced that pursuant to a final rule published in the Federal Register, USCIS would be increasing the premium processing fee from $1,410 to $1,440 beginning December 2, 2019. The fee increase applies to premium processing requests postmarked on or after December 2, 2019.
Implementation of Mandatory H-1B Electronic Registration System for FY 2021
On December 9, USCIS announced the implementation of a mandatory, Internet-based, electronic registration process for U.S. petitioners seeking to file an H-1B cap-subject petition and petition for the advanced degree exemption for fiscal year 2021. The mandatory registration process will begin on March 1, 2020 and end on March 20, 2020. Petitioner's must complete the registration process during this period and pay the $10 registration fee.
The registration process will require H-1B petitioners or their authorized representatives to provide basic information about the company and each requested worker. USCIS will be providing step-by-step instructions on their website to inform petitioners on how to complete the registration process.
For a recap of what has happened in immigration law during the past year we encourage you to revisit our blogs. A lot has happened under the Trump administration in just one year. We expect that the next year will be no different. Remember to follow our blog posts closely for more changes in the law and immigration policy.