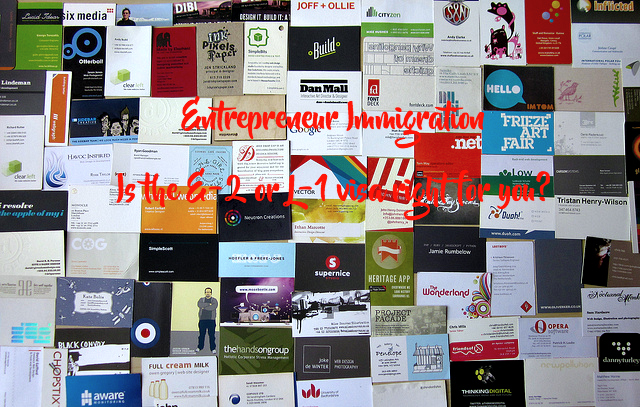 If you are a foreign entrepreneur, you have probably discovered that the United States immigration system is very limited in that there are very few visa options available to entrepreneurs that do not tie down the entrepreneur to a foreign employer, as is the case for the L and H visas. To make matters worse, if your ultimate goal is to obtain a green card to live and work in the United States permanently, you must work for an American employer willing to sponsor your adjustment of status. Although there are few exceptions, the main avenue through which entrepreneurs can gain permanent residence is either through family-sponsorship or employment-based sponsorship.
To obtain permanent residence through an employer you must either a) be a professional employed by a U.S. employer willing to sponsor your green card b) demonstrate extraordinary ability in your industry (science, arts, education, business, or athletics, c) work in a management or executive position abroad requiring international transfer to the United States or d) qualify as an EB-5 investor. In either of these cases, the U.S. employer must submit the I-140 Immigrant Petition for Alien Worker for you, before you can apply for permanent residence. If your ultimate goal is not to obtain a green card, then you have more options available to you.
We decided to write about this topic because we have found that many entrepreneurs that visit our office are not well-informed on other visa types that put them on a more direct path to permanent residence. Often times the topic of conversation leads to the E-2 Treaty trader visa, by far the most discussed visa type among entrepreneurs. Few entrepreneurs however have heard about the L-1 visa classification, that may in some ways be more beneficial to foreign entrepreneurs wishing to live and work in the United States permanently. Below we discuss both visa types and the advantages and disadvantages of both visas.
The E-2 visa, the most talked about visa:
Without a doubt, the most popular visa option entrepreneurs ask about is the E-2 visa. Many entrepreneurs however do not know that the E-2 visa is not available to everyone, and it is not a path to permanent residence. The E-2 visa is a non-immigrant treaty investor visa that is only available to foreign nationals from specific treaty countries. The E-2 visa allows foreign nationals to carry out investment and trade activities, after making a substantial investment in a U.S. business that the foreign national will control and direct. E-2 visa investors can either purchase an existing U.S. business or start a new business.