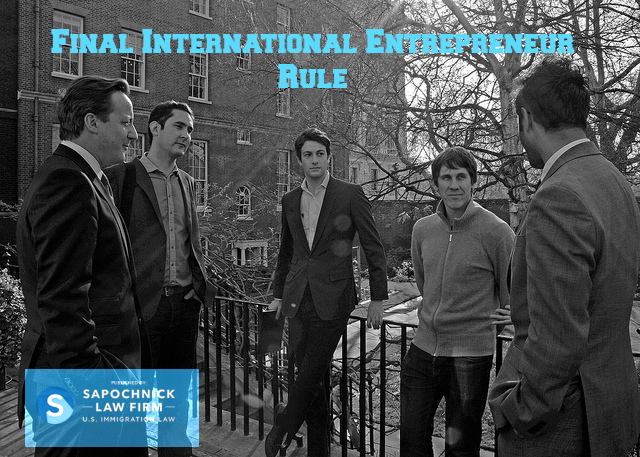 It is our pleasure to announce that USCIS has now published the Final International Entrepreneur Rule in the federal register. The final rule is estimated to benefit approximately 2,940 foreign entrepreneurs on an annual basis beginning July 17, 2017. The rule will make it easier for eligible start-up entrepreneurs to obtain temporary permission to enter the United States for a period of 30 months, or 2.5 years, through a process known as "parole," for the purpose of starting or scaling their start-up business enterprise in the United States. The foreign entrepreneur's stay may be extended for an additional 30 months to allow the entrepreneur to continue to oversee and grow their start-up company in the United States. The decision about whether to "parole" a foreign entrepreneur under this rule will be a discretionary determination made by the Secretary of Homeland Security on a case-by-case basis (INA Section 212(d)(5), 8 U.S.C. 1182(d)(5)).
The goal of this final rule is to encourage foreign entrepreneurs to create and develop start-up companies with high potential for success in the United States, and enhance economic growth through increased capital spending and job creation.  Under this rule "parole" will be granted to eligible entrepreneurs who can demonstrate that their company's business operations are of significant public benefit to the United States by providing evidence of substantial and demonstrated potential for rapid business growth and job creation. Such demonstrated potential for rapid growth and job creation may be evidenced by: (1) significant capital investment from U.S. investors with established records of successful investments or (2) attainment of significant awards or grants from certain Federal, State, or local government entities.
The final rule will allow up to three entrepreneurs to seek "parole" per-start up entity, as well as their spouses and children. Entrepreneurs who qualify for "parole" may only work for their start-up business entity in the United States. Their spouses in turn will be eligible to apply for employment authorization once in the United States.