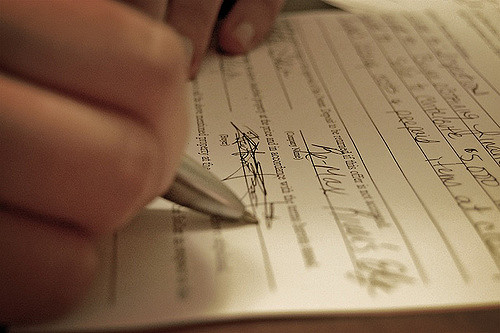 On December 28, 2016, the Department of State announced that original or "wet ink" signatures are no longer required on Form I-864 Affidavit of Support for immigrant visa petitions. This new measure also applies to I-864 supplements such as the I-864A, I-864W, and I-864EZ. Beginning January 1, 2017 the National Visa Center will begin to accept photocopies and scans of signed I-864 affidavit of support forms. The I-864 will still need to contain the affiant's signature, however the signature no longer needs to be a "wet ink" signature. Typed names and electronic signatures are not acceptable. Petitioners will be required to submit an amended I-864 form to the National Visa Center if the sponsor's name and personal information is missing and there is no signature or missing pages. Petitioners who will need to send an amended I-864 will receive a "checklist" containing the information that must be corrected on form I-864. If you receive a checklist letter prior to January 1, 2017 asking for an original signature on form I-864 please contact the National Visa Center.
Such requests will contain the following language:
[ x ] In Part 8. Sponsor's Contract, please correct the following…
[ x ] Item 6.a. You must sign the form and your signature must be original (in ink).
These improvements will simplify the immigrant visa "consular processing" by streamlining the submission of financial evidence in support of an immigrant visa application. The Department of State hopes that this new measure will reduce the amount of immigrant visas rejected at the interview stage. The NVC will continue to use an assessment type of letter to address other inconsistencies and errors found on the I-864 form. This assessment letter indicates which issues if any appear on the affidavit of support which could potentially delay the adjudication of the immigrant visa petition. Typically, this letter will indicate either that the sponsor has completed the form incorrectly or did not provide sufficient financial documentation in support of the affidavit of support. For example, if the petitioner does not meet the income requirement based on their household size, the assessment letter will indicate that more evidence is needed to establish that the income has been met, or a joint sponsor will be required. The assessment letter asks the petitioner to correct the issues before the immigrant is scheduled for their immigrant visa interview at a U.S. Consulate or Embassy abroad. If NVC sends an assessment letter, follow the instructions on the letter. Typically, the immigrant is instructed to bring a corrected affidavit of support to the interview with the suggested documents.